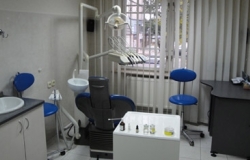 More than 14 years, every day we prove in work, that dental care should be professional and accessible. Today dentistry - it is safe and painless.
Our center is distinguished by a special relationship in regard to patients. Beautiful modern innovative facilities, the unique advanced technologies in dentistry, skilled professionals and cozy atmosphere allowed us to gain recognition and love from our patients. We, first and foremost, care about your comfort. Dentistry for us - is not a job, but an enjoyment,which we try to perform with the highest quality!
Also, this information is very useful to those who think of prosthetics and dental treatment seriously, those who care about the personal health . Perhaps you will find here everything you need and get a personal dentist. We tried to do everything possible for your peace of mind and confidence when entering our 'Dental Institute'. Painless treatment - would surprise nobody, without anesthesia we don't do anything, but the main thing - is, of course, the skilful hands of experienced dentists and their assistants, first class service and modern equipment staffed by our clinic.
By visiting our dental clinic, you will finally be able to check and make sure that modern dentistry can be enjoyable and with a high quality. The dental treatment, dental prosthetics and dental implantology – can be painless processes and not at all onerous.
Sincerely, the colleagues of the Center "Art dent"
Contact Details
Address:
Moldova, mun. Chisinau, c. Chişinău
Riscanovca, St. Bogdan - Voievod, 2

Phone(s):
(+373 22) 439 309

Gsm's:
(+373 60) 550 500
Do you represent the company Art-Dent SRL?