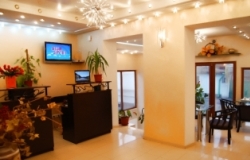 Hotel Bella Donna is a three stars hotel that is conveniently located in the heart of Chisinau, the capital of Moldova.
Due to its placement on one of the central streets of Chisinau, the hotel allows you to have the authentic cosmopolitan experience, with embassies, banks business and shopping centers mere minutes away.
However, if one wants to take a break from the fast rhythms of the city, Hotel Bella Donna can arrange trips to various historical landmarks in Moldova, such as: wineries, monasteries and simply picturesque places.
Whatever the purpose of the stay, one can be assured that at Hotel Bella Donna there will always be a homely atmosphere and the rooms will be adapted to the guests likings. The list of provided services includes items such as: information about extra accommodation, free Wi-Fi, a working space and generally speaking a productive environment.
The soothing decor, combined with a hot cup of tea offered by a staff member, will ensure that any guest will have the chance to relax, even if the purpose of the stay is pure business. Hotel Bella Donna prides itself of fast and efficient service, and guarantees that everybody will be treated with courtesy and respect.
You can make a hotel reservations by phone, fax, email or by completing the reservation from on our website. Either way, a representative of the hotel will contact you and will work out the details of your choice of accommodation. Hotel reservation services are for free. Bella Donna Hotel Moldova is the best place for accommodation in Moldova.
Thank you for choosing a Bella Donna Hotel Chisinau and we hope you have a nice stay!
Contact Details
Address:
Moldova, mun. Chisinau, c. Chişinău
Center, St. București, 9

Phone(s):
(+373 22) 548 207

Gsm's:
(+373 79) 062 985
Do you represent the company Svetlanse S.R.L.?