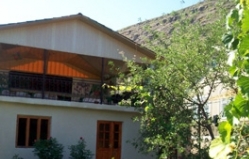 The pension "Casa de sub stanca" (The House under the rock") is located in Trebujeni village (Old Orhei) 50 km far from Chisinau. It represents the 11th house at the beginning of the village situated exactly under the rock which makes the place more interesting and attractive for tourists. It gives for both national and foreign tourists the possibility to spend a great and memorable time in a rustic environment with traditional dishes and a lot of good disposition.
The pension gives the possibility to discover the charm of country's life with national customs and traditions.
It is a pension with high touristic potential which includes:
A separate house for tourists accommodation and meals (they can use the dinning room either one of two terraces);
Two double bedrooms;
One dinning room;
One salon;
One kitchen;
Bath room(lavatory, shower cabin);
Two cellars;
Two summer terraces(one being part of the house and the other one arranged in national style situated in front of the garden);
One garage;
A car;
A garden with trees and flowers in front of the house and another one situated on board of Raut River.
A well with crystalline water at the gate of pension that is considered one of the best water in the village.
The guests are served only with traditional meals specific for this zone:
Noodle soup with chicken meat;
Stuffed cabbage or grape leaf rolls;
Cottage cheese pies, apple pies, sour cherry pie;
Polenta with cottage cheese and cream;
Pig roast;
Vegetable salad
and of course guest can enjoy the taste of Moldavians wines.
different housework.
Also tourists can take part to different national traditions like knitting, crocheting, wood sculpturing, dyeing Eastern eggs, etc.
They can assist to a folk spectacle with national music and dances; they can take a drive with a horse cart or a row on Raut River or they can visit the village's surroundings; they can go for fishing or they can take part in.
We organize different festive activities, parties and birthdays.
The pension "Casa de sub stinca" (The House under the rock") is the perfect choice for spending weekend together with family.
Contact Details
Address:
Moldova, dis. Orhei, v. Trebujeni

Phone(s):
(+373 235) 56 077

Gsm's:
(+373 69) 610 260
(+373 79) 960 815
Do you represent the company Pensiune Casa de sub Stinca?