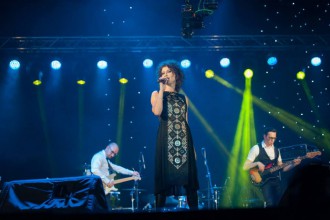 Natalia Barbu and Alex Calancea Band will give an exclusive concert in Chisinau called "I love you."
The event will take place on October 22nd at the National Palace, beginning at 19.00.
Accompanied by Alex Calancea Band, Natalia Barbu will perform a number of old and new songs. "I'm sure it will be a great concert. Repertoire consists of old and new songs that have not been heard by anyone in acoustic terms. The band will accompany Natalia during the whole concert. Many famous songs of Natalia will be remixed, we will put them in a more modern shell, "said Alex Calancea.
Alex Calancea and Natalia Barbu are now working on the concept of the concert, especially when choosing songs. "The hardest part is that there are a lot of songs, and we do not know which of them to leave in the concert program, and which ones to exclude, because Natalia sings brilliantly all his songs, but the concert should last only two hours," added the guitarist.
Tickets will be sold on Tuesday, and the price will be between 100 and 400 lei.
Start: Oct 22 2014 Next: Oct 22 2014
End: Oct 22 2014
Venue: National Palace
Ticket Cost: 100 - 400 lei

Contact Details
Address:
Moldova, mun. Chisinau, c. Chişinău
Center, St. Aleksandr Pușkin, 21

Phone(s):
(+373 22) 233 005
(+373 22) 234 121
(+373 22) 233 194

Url: