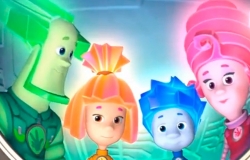 From 2 to 10 May at the National Philharmonic Hall will take a miraculous performance for children - "Fix-show" in which they can take part themselves.
"Fix-show" is a performance - "happenings": it will allow each child to take part in amazing adventures Fixico right during the performance, and this means children will be able to witness their favorite characters and play with them in the interactive music games.
Every kid will be involved in the action and feel it necessary and indispensable. Will helo also perky and cheerful "fiksipelki" that can be sung with the audience.
Time:
May 9
c 12:00 to 14:00
c 15:00 to 17:00
MAY 10:
c 12:00 to 14:00
c 15:00 to 17:00
Start: May 02 2015 Next: May 10 2015
End: May 10 2015
Venue: National Philharmonic "S. Lunchevici"

Archive
02.05.2015
03.05.2015
04.05.2015
05.05.2015
06.05.2015
07.05.2015
08.05.2015
09.05.2015
10.05.2015
Contact Details
Address:
Moldova, mun. Chisinau, c. Chişinău
Center, St. Mitropolit Varlam, 78

Phone(s):
(+373 22) 222 334

Gsm's:
(+373 67) 660 995