National Museum of History of Moldova opened on Thursday, July 31, 2014, in the exhibition hall of the second floor, a exhibition within the event of international commemoration of the centenary of the outbreak of the First World War.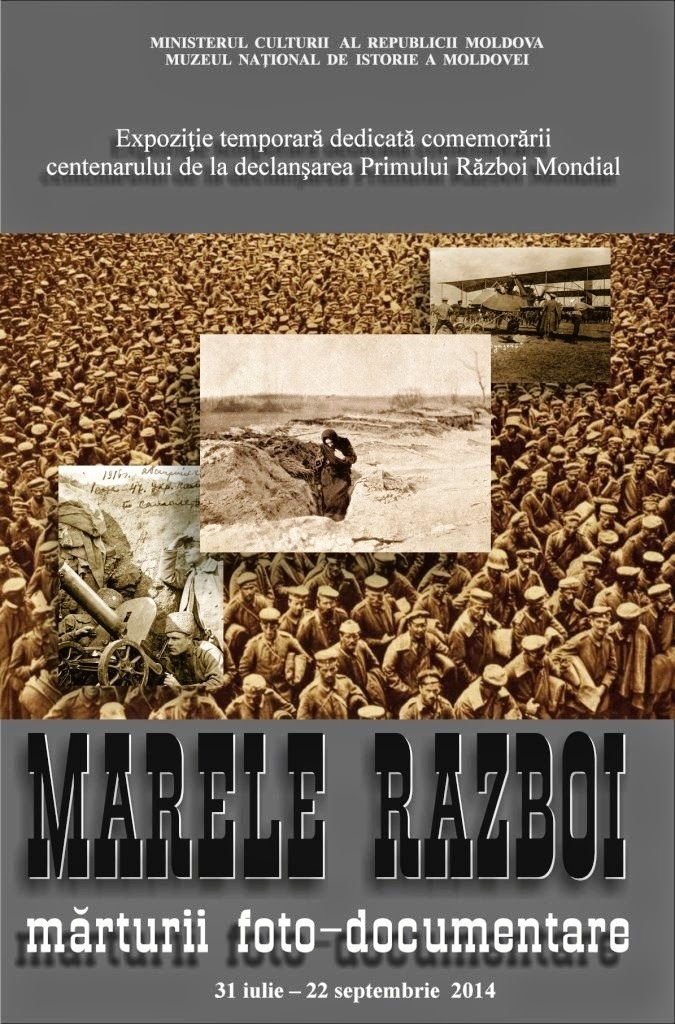 The exhibition includes photographs, newspapers, maps, postcards which reflects some aspects of the war such as the life of soldiers in times of respite, medical personnel on the battlefield and behind the lines, the horrors of military conflagration, others.
The exhibition is channeled in two directions:
Aspects from the battles on the Western front (German armies acting against French, British and Belgian armies), on the Eastern front (German and Austro-Hungarian army fighting against the Russian army) and on the Balkan front where part of Austro-Hungarian army fought against Serbs. War battle scene is completed by Romania's involvement in World War I in 1916, which inscribed a separate page in the war history with the battles from Mărăşti, Mărăşeşti and Oituz (1917).

Bessarabia and the Bessarabians in World War I. Incorporated into the Russian Empire, Bessarabia had an important contribution under economic and social aspects, the human dimension being most valuable. A big part of future members of Sfatului Ţării and other well-known personalities are found among the participants of the Great War; or common solders called to duty found their rightful place in the exhibition. The research and the valorification of the photographic heritage has allowed us to discover a range of Bessarabian soldiers, participating in that hellish carnage, complementing the list of Bessarabian soldiers. Among them we mention Simion Murafa (v. Cotiujenii Mari, Soroca), who led a sanitation team on the Romanian front, Onufrii Şerevschi (v. Sofia, Drochia), Petru Cebotari (v. Moşeni, Râşcani), Ion Tcaciuc (v. Ivancea, Orhei), Gheorghe Beschieru (v. Samaşcani, Orhei), Ion Spătărel (Chişinău) etc. A special page in the history of war was signed by the sisters of charity, including the Bessarabian Iulia Dicescu (one of P. Dicescu' daughters), Sofia Cantacuzino, Elena Ivanov-Spătărel, Eugenia Colodiev, Zinovia Radu-Maiorova etc.
The exhibition message is also conveyed by the newspaper "Iskry" (supplement of "Russkoe slovo") from 1915, with reportages from the battlefield and from behind the front line, a mini-collection of postcards and war map.
Start: Jul 31 2014 Next: Sep 22 2014
End: Sep 22 2014
Venue: Muzeul Naţional de Istorie a Moldovei

Archive
31.07.2014
01.08.2014
02.08.2014
03.08.2014
04.08.2014
05.08.2014
06.08.2014
07.08.2014
08.08.2014
09.08.2014
10.08.2014
11.08.2014
12.08.2014
13.08.2014
14.08.2014
15.08.2014
16.08.2014
17.08.2014
18.08.2014
19.08.2014
20.08.2014
21.08.2014
22.08.2014
23.08.2014
24.08.2014
25.08.2014
26.08.2014
27.08.2014
28.08.2014
29.08.2014
30.08.2014
31.08.2014
01.09.2014
02.09.2014
03.09.2014
04.09.2014
05.09.2014
06.09.2014
07.09.2014
08.09.2014
09.09.2014
10.09.2014
11.09.2014
12.09.2014
13.09.2014
14.09.2014
15.09.2014
16.09.2014
17.09.2014
18.09.2014
19.09.2014
20.09.2014
21.09.2014
22.09.2014
Contact Details
Address:
Moldova, mun. Chisinau, c. Chişinău
Center, St. 31 August 1989, 121-А

Phone(s):
(+ 373 22) 24-43-25
(+ 373 22) 24 04 26