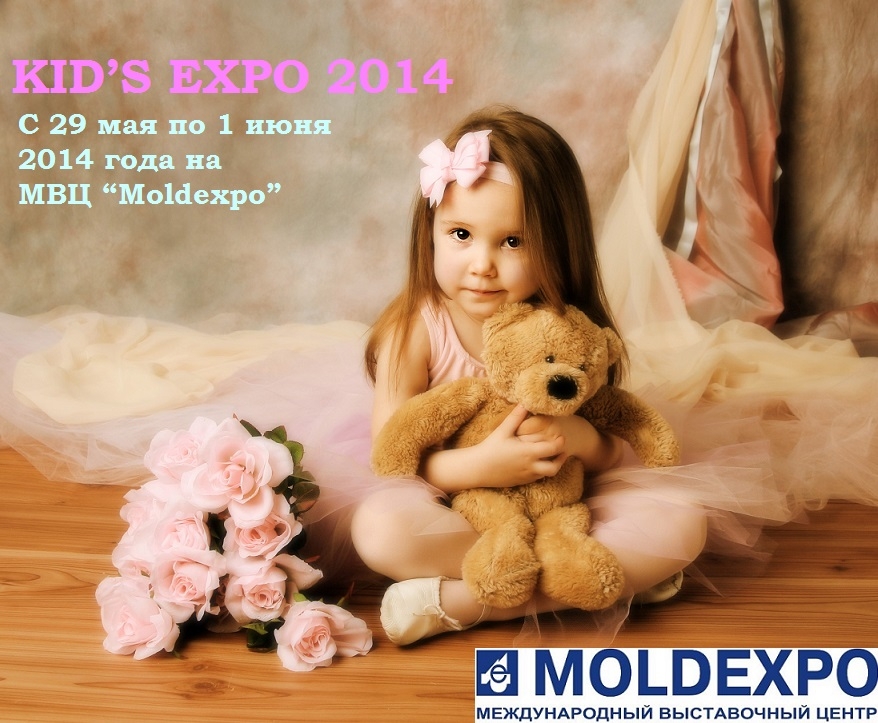 We invite you to participate in the 4th International exhibition festival of goods and services for children and expectant mothers "KIDS 'EXPO". The exhibition will be held from May 29 to June 1, 2014 at IEC "Moldexpo", leading center of the country in organizing exhibitions and fairs.
Organizer: IEC "Moldexpo" SA

Official support:
• Ministry of Education of the Republic of Moldova
• Ministry of Health of the Republic of Moldova
• Ministry of Labor, Social Protection and Family of the Republic of Moldova
• Ministry of Youth and Sports of the Republic of Moldova
Partner of the Program: Praetorship of Sector Buicani mun. Chisinau

National Center for Children and Youth "Artico"

Exhibitions:
• Clothing, footwear and accessories for children and pregnant women.
• Clothing and footwear.
• Children's and health food, drinks, sweets, ice cream and pastries.
• Goods and services for baby care.
• Children's cosmetics and personal hygiene products.
• Toys and games, children's transport.
• Children's furniture, bedding and accessories, construction and design of the nursery.
• Training and development, books for children, audio and video products.
• All for carnivals, celebrations, christening.
• Clinics and health centers for mothers and children, Reproductive Medicine Clinic , family planning centers, psychological preparation for pregnancy and childbirth,
• Health centers for pregnant women: fitness, aerobics, yoga, swimming, breathing training.
• Employment, work while being on maternity leave

The program includes:

Contests, quizzes, jokes, entertainment shows. Concerts featuring children's creative teams and clowns. Presentations, seminars and consultations for parents and expectant mothers. Fashion show for children, pregnant women, sling-shows. Interactive lessons for children, master classes for moms.

Start: May 29 2014 @ 10:00 Next: Jun 01 2014
End: Jun 01 2014 @ 19:00
Venue: Moldexpo
Start Date/Time: 10:00
End Date/Time: 19:00

Archive
29.05.2014
30.05.2014
31.05.2014
01.06.2014
Contact Details
Address:
Moldova, mun. Chisinau, c. Chişinău
Buiucani, St. Ghioceilor, 1

Phone(s):
(+373-22)-810426
(+373-22)-810407
(+373-22)-810430

E-mail:


Url: