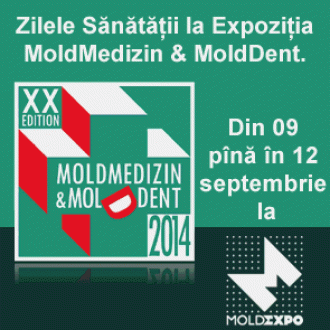 This year from 9th to 12th September IEC Moldexpo will hold Health Days 2014 They include 20-th International specialized exhibition of medical equipment, MoldMedizin & MoldDent medicine and dentistry, scientific conferences and healthy lifestyle programs.
Official site of exhibition:
www.moldmedizin.moldexpo.md
.
The official opening will be held on Tuesday, September 9th, at 11:00 am, in the central pavilion of IEC Moldexpo.
Running: 09.09. - 11.09 - 10.00 - 18.00 12.09 - 10.00 - 16.00
Start: Sep 09 2014 @ 09:00 Next: Sep 12 2014
End: Sep 12 2014 @ 19:00
Venue: IEC Moldexpo
Start Date/Time: 09:00
End Date/Time: 19:00

Archive
09.09.2014
10.09.2014
11.09.2014
12.09.2014
Contact Details
Address:
Moldova, mun. Chisinau, c. Chişinău
Buiucani, St. Ghioceilor, 1

Phone(s):
(+373-22)-810407
(+373-22)-810426
(+373-22)-8104 30

E-mail:


Url: