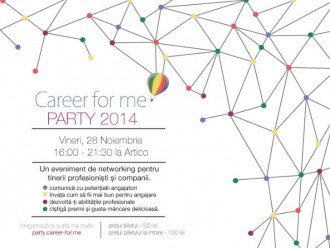 It is our pleasure to invite you to the Career For Me Company and Student Party which will take place at ARTICO on November 28 from 15:30 - 21:30.
This is not your typical career fair where social and physical barriers create a divide between employers and potential employees. The vision behind this party is to connect progressive, forward-looking companies with proactive youth from around Moldova. The agenda is designed to facilitate cooperation in an informal, interactive, dynamic, and instructive way!
If you are an ambitious, proactive young professional interested in learning about exciting opportunities, we look forward to seeing you there!
AGENDA
16:00-17:00 – "Connect, the value of networking" Workshop for students
"Connect, the value of task-based hiring" Workshop for companies
17:00-17:20 – Coffee Break
17:20-17:30 – Official opening ceremony
17:30-18:00 – "30 Second Pitch:" Speed presentations by companies
18:00-19:00 – "Moldova Are Cariere" 6 companies give 7 minute presentations about employment opportunities and professional development
19:00-19:30 – "Informational interviews" Skills for employment game
19:30-20:15 – "Cranium Challenge" team building activity for companies and students
20:15-21:00 – "Beauty in Business" 4 success stories of young entrepreneurs
21:00-21:30 – Concluding remarks
Winners and prizes announced
Reception and networking
Target audience:
students and young professionals (15-30)
recent graduates
unemployed
seeking a career change
Start: Nov 28 2014 @ 15:30 Next: Nov 28 2014
End: Nov 28 2014 @ 21:30
Venue: ARTICO
Ticket Cost: 150 lei
Start Date/Time: 15:30
End Date/Time: 21:30

Contact Details
Address:
Moldova, mun. Chisinau, c. Chişinău
Center, Bld. Stefan cel Mare si Sfint, 169

Gsm's:
(+373 69) 805 304