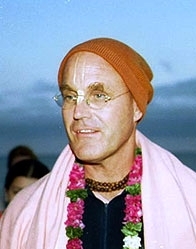 During this coming weekend, September 13th and 14th, the capital will be hosting the Festival of India. This really wonderful and colourful event can be seen at the Moldexpo exhibition center. The program includes: "kirtan" (authentic Indian mantras, performed to the music), lectures (on ancient spiritual knowledge), Indian dances, vegetarian cafe, along with more traditional Indian food, as well as a bookstore.
Indradyumna Swami
will speak at the festival, a prominent Indian cultural figure that spends many-month tours, spreading the Vedic culture and knowledge. Within the last round of tours, Swami visited Poland, Brazil, Australia and India.
He has also visited some remote corners of the planet, as the forests of Amazonia, Mauritius, New Caledonia. His presentation will take place on 13th September at 18:00hrs and 14th of September at 14:00hrs in the 3rd pavilion.
Everyone is welcomed.
Admission is free. All the information about Festival of India can be found on the site
swami.kb.md
.
Start: Sep 13 2014 @ 09:00 Next: Sep 14 2014
End: Sep 14 2014 @ 19:00
Venue: MoldExpo
Start Date/Time: 09:00
End Date/Time: 19:00

Archive
13.09.2014
14.09.2014
Contact Details
Address:
Moldova, mun. Chisinau, c. Chişinău
Buiucani, St. Ghioceilor

Phone(s):
(+373-22)-810419
(+373-22)-810416
(+373-22)-810462

Url: