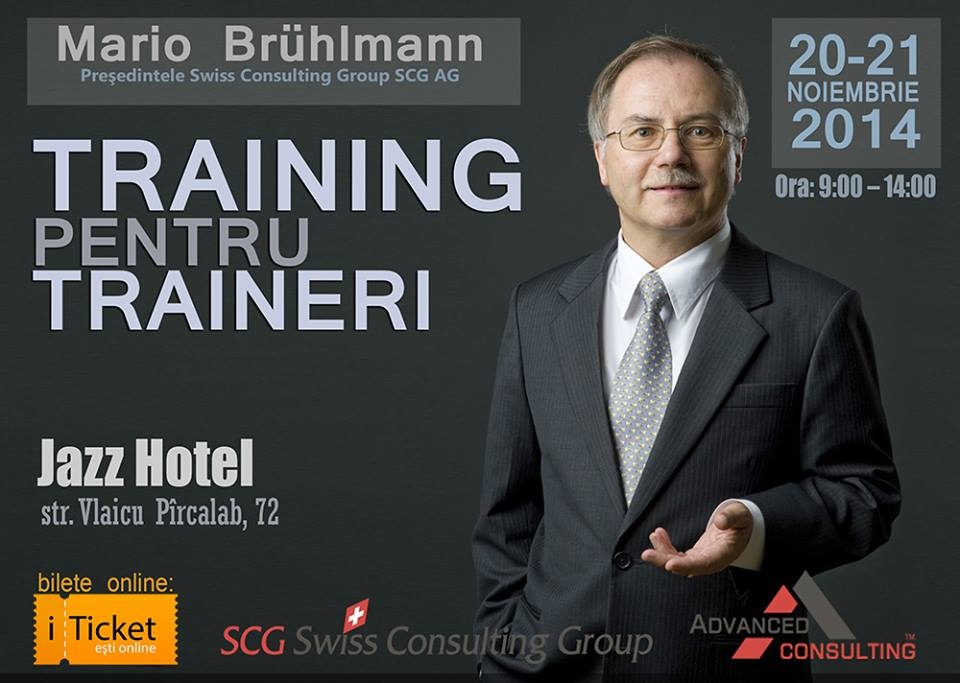 Good day!
Do you want to become a good coach for your team or for other companies? You can participate in an exclusive training on Training for trainers with the the Swiss - Mario Bruhlmann, the president of Swiss Consulting Group, with experience in business for over 35 years, working as a coach at the international level.
Contents:
- Types of discussion
- Creation of the concept of training
- Analysis of the needs and educational goals
- The principles of didactics
- Training events
- Training cocktail
- Communication
- What makes a presentation live?
- How to reduce stress and anxiety?
- How to complete the presentation?
- Ten Rules convincing presentation
- Model of the four ears
- Johari Window
- The ability to assimilate
Start: Nov 20 2014 @ 09:00 Next: Nov 21 2014
End: Nov 21 2014 @ 14:00
Venue: Jazz Hotel
Start Date/Time: 09:00
End Date/Time: 14:00

Archive
20.11.2014
21.11.2014
Contact Details
Address:
Moldova, mun. Chisinau, c. Chişinău
Center, St. Vlaicu Pârcălab, 72

Gsm's:
(+373 60) 879 444

Url: