On the 24th May National Olympic and Sports Committee will organise a festival, called Olympic Fest.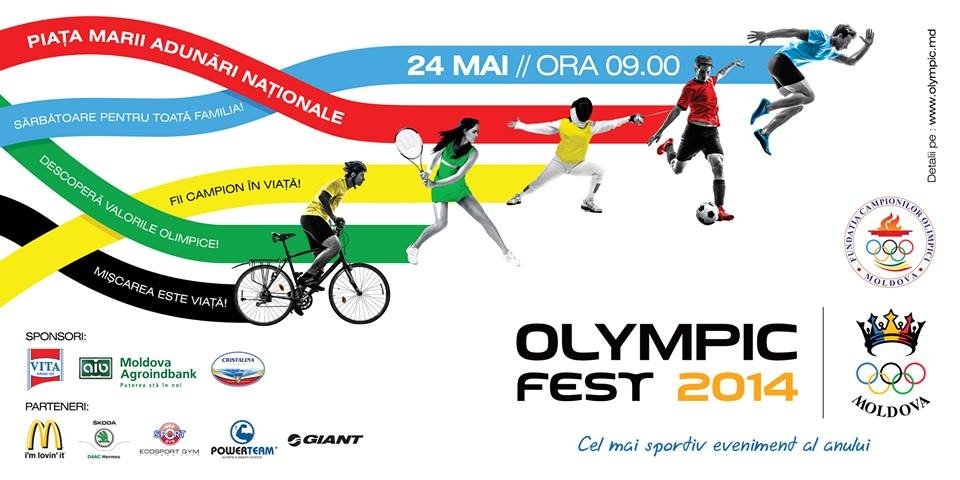 More than 2 million lei are spent on the event and about 10 thousand people will take part in it.
The main part of the festival is a 3.5 km sprint at the center of Chisinau. All participants will receive a special t-shirts with numbers and symbols of the Olympics. Further, these numbers will take part in the quiz, the prizes of which are going to be two exercise bicycles, balls, bikes and other sports equipment.
Young athletes will show master classes in various sports - boxing, wrestling, basketball, soccer, tennis, taekwondo.
There will also be a football match between Moldovan artists and politicians. Not far from the scene the Olympians Olympic volunteers are organizing a flash mob called "Respect, Friendship, Perfection."
Start: May 24 2014 @ 09:00 Next: May 24 2014
End: May 24 2014 @ 23:59
Venue: Piata Marii Adunari Nationale
Start Date/Time: 09:00
End Date/Time: 23:59

Contact Details
Address:
Moldova, mun. Chisinau, c. Chişinău
Center, Piața Marii Adunări Naționale

Url: