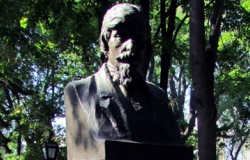 The Bust of a Moldovan and Romanian poet, publicist, literary critic and a writer Alec Russo can be found in the Alley of Classics. It was installed there in 1957 and the author of the sculpture is a Mr. V. Larchenko.
Alec Rousso was one of the first people who began collecting stories of national folklore. In 1846 while being in exile and living in a monastery Sobezha, he wrote a pastoral ballad "Mioritsa", after which he sent his work to his colleague Vasile Alexandri, who then published it in the journal "Bucovina" in 1850.
Contact Details
Address:
Moldova, mun. Chisinau, c. Chişinău
Center, Parcul "Ștefan cel Mare"
3 photos: 1 from 3