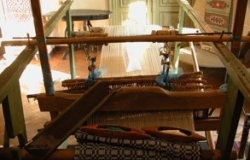 Since 1984, there is "Museum of Folk Handicrafts" in the village Ivancha. It is located in an old mansion of Boyar Balioz.
The museum organised a permanent exhibition around that of traditional Moldovan fisheries. One hall houses the subjects of red and black pottery, another - a collection of unique pieces of metal. For centuries the local blacksmiths were widely known for their craftsmanship. In addition, the museum clearly shows the methods of processing of artistic stone.
There is a special hall in the museum dedicated to homespun rugs and clothing beautifully embroidered by the hands of the skilful masters. Artfully processed skins and horns of animals have exotic look.
The Jewels of the collection are the items that are most similar and familiar to our instrumentalists being a vast collection of musical instruments.
Contact Details
Address:
Moldova, dis. Orhei, v. Ivancea

Phone(s):
(+373-22)-43343
(+373-22)-43320