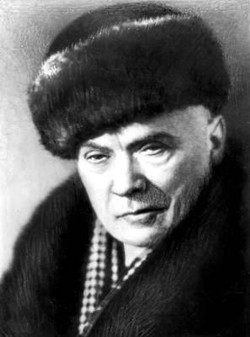 In the beginning of the 29th century one of the most beautiful and attractive streets of Chisinau was considered to be that of Schusev Street. This street consisted mostly of one-story homes; however, two or three storey buildings occasionally rose amongst them. All those structures were built according to the development plan of 1834.
Shusev Museum is located in its own house. The exhibition was opened in 1973 and dedicated to the 100th anniversary of the famous architect. However, there is evidence that in 1947 the architect Shchusev himself participated in the organising of a museum at his house.
A.V. Schusev apparently handed over the museums original photographs, graphics, drawings and other documents from his personal archive. It is known that since the mid -fifties to 1973 the museum was effectively closed. Today it works in normal mode, but the condition of the building is poor - heating is turned off, the roof leaks and the plaster crumbling. The last thorough overhaul was made in the 1980s; sadly nowadays the city appears not to have the money for any reconstruction work.
A.V. Shusev was an outstanding architect; his works today still delight lovers of architecture. In addition, after the Second World War, Shusev actively participated in the restoration of the city, he is the author of numerous architectural projects for many buildings, both in the capital and beyond. In 1947 Shchusev developed a general plan of reconstruction for Chisinau, and due mostly thanks to this plan, the capital of Moldova acquired glory to be called a stone flower.
Within the exhibits of the museum there can also be found a fabulous testimony to the life's work of A. Bernardazzi , another world-famous architect of the country. He was the first architect of the capital; more than 30 buildings were built according to project design. Thus today they are not only architectural monuments but also are a demonstration of the city's history .
One of the greatest designs of A. Schusev is located in his hometown, Chisinau, being the building of the second classical school for boys. It is interesting that the name of Alexei Viktorovich Shchusev is not very well known by everyone, but one of his creations is certainly known to everybody. This is mausoleum on Red Square, where the body of Lenin lies. He is also the author of the following projects:
• The Kazan station in Moscow
• Moscow River bridge
• The KGB building on Dzerzhinsky Square (now Lubyanka )
• The interior metro station " Komsomolskaya ring "
• The church on the Kulikovo Field
• The Trinity Cathedral Pochayevskaya Lavra
• The church of St. Basil
• The Opera and Ballet Theater named after Alisher Navoi in Tashkent
A. Schusev is also the author of many other buildings that adorn different cities of the former Soviet Union.
Contact Details
Address:
Moldova, mun. Chisinau, c. Chişinău
Center, St. Alexei Şciusev

Phone(s):
(+373 22) 220 308

E-mail:

11 photos: 1 from 11