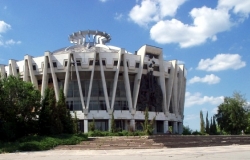 The budget of the Ministry of Culture has announced that it does not have enough funds to reconstruct Chisinau circus in 2014.
Minister Monica Babuk said that this year the agency can count on 267 million lei. Part of this money will be spent on the repair of buildings, which belong to national historic landmark, but unfortunately the circus is not among them.
She explained that the ministry intends to find other sources of funding, for example, to attract foreign investors.
Monica Babuk added that a new Strategy for Cultural Development will be implemented in 2014.
"We need to change our vision regarding the financing of culture. Funding should be based on performance. There is absolutely no management culture in Moldova. We are confident that the Strategy as well as a new Law on Culture, which is before Parliament, will contribute to climate changing in culture of Moldova", - noted Babuk.