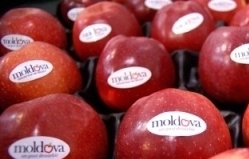 First trucks with apples yesterday went from Moldova to Romania. Fruit will be sold in the trade network «Metro». Iurie Leanca confirmed this fact during the television show «Moldova în direct».
Leanca said that exporters have offered a good price, and now the authorities are considering the possibility of realizing MD fruits in other EU trading networks. In this regard, Moldova negotiates with the representatives of the French, British and German supermarkets.
Romania announced earlier that it would be imported from the Republic of Moldova of 14 thousand tons of apples. Also at the beginning of August, Romania bought the trial consignment of plums of 600 tons, the price of 3 lei per 1 kilogram.