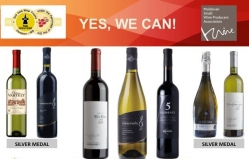 Three gold and four silver medals were received by Moldavian domestic wine at a major tasting wine competition Asia Wine Trophy` 2014 in Asia. This contest was held in the period of 27-30 September in South Korea.
3289 samples of wine have been submitted from 28 countries at the contest. They were tasted by 106 experts from 17 countries.
Republic of Moldova represented 10 wines, 7 of which were prize-winners. Equinox 5 elemente, 2011 Crescendo Chardonnay Barrique, 2012 and Vinaria Nobila Merlot, 2012 were awarded gold medals.
Silver medals were given to Cricova Crisecco, Chateau Vartely Feteasca Regala, 2013, Vinaria Nobila Chardonnay, 2011, Crescendo Pinot Noir, 2011.
Asia Wine Trophy is a prestigious competition, which operates under the auspices of the International Organization of Vine and Wine. This year it has been held for the second time.