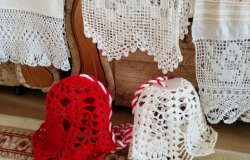 «IProsop» is a first fair in Moldova which is devoted to hand-weave or embroidered towels and technological capabilities of entrepreneurs in the field of promotion of national culture. It will take place in the village of Selemet, Cimislia district.
At the fair the organizers will propose visitors various traditional activities: information and demonstrative sessions on embroidery and weaving, interactive workshops, including master classes for children. The guests will also enjoy private and museum collections of towels and even they will be able to buy traditional items for themselves.
Musical accompaniment will be performed by folklore groups, ethnic and folk groups and Moldovan pop stars.
Guests from Romania, Italy and Norway have been invited to the fair, they will enjoy our music and try Moldovan national cuisine.