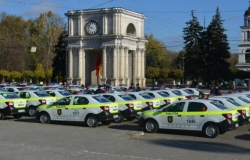 The cars are designed for the mobility of police stations and patrol
November 5th at the center of Chisinau there was held a ceremony of transferring of 164 specially equipped cars Dacia Logan to MIA. The cars, equipment and office equipment were purchased with funds allocated by the EU in the form of a grant.
Press Service of the Ministry of Internal Affairs reports that the equipment will be distributed among 37 regional Police Inspectorate. The ceremony was attended by the Prime Minister of Moldova Leanca, Head of EU Delegation in Moldova Pirkko Tapiola, Interior Minister PM Dorin Recean and Chief of the General Inspectorate Ion Bodrug.
The cars are fully equipped: flashing beacons, equipment for cordon and signaling, navigational instruments, radios, first aid kits, fire extinguishers, winter tires wheels.
According to the Interior Ministry, the cars cost 21.2 million lei, paperwork (including insurance) - 2.4 million lei, office equipment - 1.9 million.
Contact Details
Address:
Moldova, mun. Chisinau, c. Chişinău
Center, Piața Marii Adunări Naționale