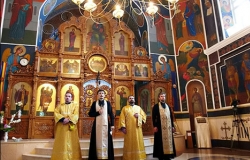 Church Theodora from Sihla is located in the heart of Chisinau, in a former girls' school chapel
The church is situated in a former girls' school chapel built in 1895 and designed by the renowned architect Alexander Bernardazzi on the means of Yefrosinia of Vyazemsk.
One-nave building has an axial composition, with a three-part division. The dominant part is octagonal nave, which is extending beyond the walls and crowned by a hip roof and cupola.
The ground floor is designed in the form of ancient porch; the first one is in the form of chamber.
The decoration is exclusively beautiful: the walls are made of two-colored limestone blocks, beautifully decorated archways, columns, cornice, cast iron grids. The domes within the perimeter of the tholobate are decorated with gables and advanced eaves. Roofing of the central cupola is made in the style of volume scales.
After the construction of the chapel it has not been used for a long time. Only in 1922 Yefrosinia of Vyazemsk gave permission for its consecration. For a time the building housed a museum and 23 April 1942 the chapel was consecrated again. Until 1991 the building was used not only as a museum, but also as a gym.
Since 1991 and to this day in the walls of the former chapel the church of Saint Theodora from Sihla once belonged to Metropolia of Bessarabia has been functioning. In the year of its opening there was canonization of St. Theodora from Sihla. Therefore to the name of St. Teodor Tiron, the patron of the church, was added the name of St. Theodora. In 1995, the Church solemnly celebrated the 100th anniversary of its founding.
Contact Details
Address:
Moldova, mun. Chisinau, c. Chişinău
Center, St. Aleksandr Pușkin

Phone(s):
(+373 22) 224 530
Do you represent the company?