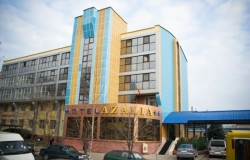 Hotel"Azalia" is a cozy hotel located in the center of Cahul, here you will have everything you need for business and rest. The hotel has 41 rooms: single, double, Semi-luxe rooms and rooms Luxe, a conference room with Wi-Fi connection, bar "Aquarium" and "Celentano" pizzeria. In the summer period there is a terrace.
Contact Details
Address:
Moldova, dis. Cahul, c. Cahul
St. A. Mateevici, 21, MD - 3900

Phone(s):
(+373 299) 26 546
(+373 299) 23 518
Do you represent the company "Azalia Hotel"?