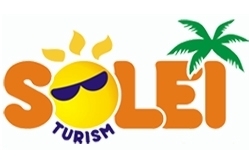 Founded in 2001,
«Solei Turism» Moldavian travel agency
, continuously developing through the period of its existence, today holds a significant place on the contemporary travel market of Moldova.
From the day of incorporation,
«Solei Turism»
acts on the principles of professionalism, security and efficiency.
The main company purpose is to assure a high service level for an optimal price using modern technologies in the travel business and individual approach to each client.
In the years of fruitful activity on the travel services market,
«Solei Turism»
agency gained an important experience in travel service, set durable relations with leading airlines, travel agencies and associations with international recognition.
«Solei Turism»
is an active member of
ANAT
, since 2003 – member of the International Air Transport Association "
IATA
", since 2004 – member of the Russian Federation and
CIS
Business Travel Association.
Impeccable business reputation, employees' qualification, precise organization in individual and corporate clients' service brought
«Solei Turism»
to the line of leading players on Moldova's travel market.
Airline tickets in Chisinau: book and buy In the
«Solei Turism»
company offices you may book and buy airline tickets for any flights of any airline in the world. From any place in Moldova you may book a ticket by phone or email and then receive you airline tickets in Chisinau. Lately electronic tickets have become popular, so there is no need to come to the company's office, you may solve any questions with a manager by phone, which is very comfortable both for individuals and for corporate clients. Permanent connection of all company offices of
«Solei Turism»
to international airline ticket booking systems allows us to provide any information and book airline tickets in Chisinau for any international or domestic flights of any country.
Travel in Moldova People hospitality, Moldova's attractions and picturesque layouts generate genuine interest and warmest feelings to our country's guests. Cultural-historical tours, wine tours, rural tourism are traditionally in demand, both with Moldova's guests and its own citizens.
«Solei Turism»
company organizes travel in Moldova on a high professional level for individual and corporate clients.
Travel to Turkey and other popular resorts April to October,
«Solei Turism»
, annually, already for over 10 years, organizes charter flights on the Chisinau-Antalya-Chisinau route. Thus, travel to Turkey to the Mediterranean shore in modern resort hotels of Antalya, Kemer, Side, Alanya and other places becomes affordable and the number of travelers, preferring travel to Turkey, grows every year. Solei Turism company experience and professionalism allows us to organize on a high level our clients' travel also to other popular resorts of Thailand, UAE, Egypt, Bulgaria, Romania, Ukraine and Western Europe countries.
Organization of corporate travel in Moldova and abroad, business trips in Moldova and abroad for corporate clients The technologies, used throughout the world in the travel service of tourists and business people, are known, assimilated and processed by
«Solei Turism»
company employees, during professional education, traineeships in leading companies of the business, as well as specialized courses and trainings, and naturally during everyday work with company's clients. This is why tourist service is always done qualitatively and on the high level of international standards of the travel service business. Organization of corporate travel and business trips is one of the priority activities of our company. We serve our corporate clients, providing different events organization services (business trips, exhibition visits, participation in congresses, incentive tours and so on), as well as organization of individual trips and business trips for various companies' managers and employees.
Being a company with many profiles, specialized on internal and international travel, "Solei Turism" offers a complex of services, including:
Ticketing (E-tickets)
Hotels in Chisinau
Transport services
Business programs
Tours and excursions in Moldova
Tasting of wines and divines
Holidays on the shore
Cruises
Pilgrimages
Treatment, talasotherapy
Ski, mountain tours
Exotic destinations
Children camps
Participations at sports events
We appeal to everybody!!!
Travel with
«Solei Turism»
and your rest and work will be comfortable and full of unforgettable impressions!
«Solei Turism» travel agency
Contact Details
Address:
Moldova, mun. Chisinau, c. Chişinău
Botanica, Bld. Dacia, 80/3, MD-2026

Phone(s):
(+373 22) 890 890
(+373 22) 840 840
(+373 22) 890 900
Do you represent the company Solei-Turism SRL?