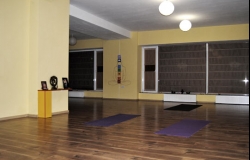 Yoga center - welcome to our club of yoga lovers, beauty and a healthy lifestyle. Finally, we have the opportunity to create a place where people can share practice knowledge, where you can relax during the week after a busy day or to fill themselves with energy at the weekend.
Our instructor, using asanas, mudras, mantras, healing music and wonderful incense will immerse you in an atmosphere of ancient healing practices. This yoga is not like a modern fitness program, it's not exercise, not a sport, there is no element of competition. Your body will take the form of a perfect, calm your mind and your soul is harmonized. The main course quite intense, but it is the power of the people leading an active lifestyle and do not have severe disease of the nervous system and the musculoskeletal system.
You will also be able to attend seminars on Shatkarmas (yoga cleansing procedure) and lessons on the history, the philosophy of yoga; as well as lectures on the basics of Nutrition Yogis and Ayurvedic.
Welcome! Om!
Contact Details
Address:
Moldova, mun. Chisinau, c. Chişinău
Center, St. Ciuflea, 6

Phone(s):
(+373 79) 457 594

Gsm's:
(+373 79) 997 272
(+373 60) 415 712
(+373 79) 457 594
Do you represent the company?