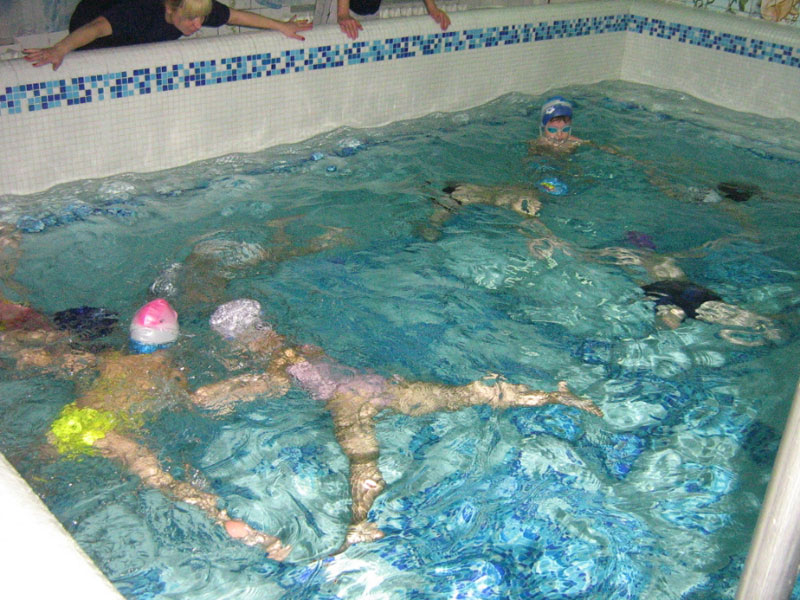 Health improving complex «Blue Bird» invites children from 2 to 16 years and parents to swimming lessons, aqua aerobics and many other developmental activities.
The health spa was founded in 1996 and was directed strictly at improving people health. Our goal and mission is happy and healthy clients. To this end, we provide not only swimming, but water treatments, exercises and a lot of other useful things for you and your children.
To date, we have groups:
• children from 2 to 6 and from 6 to 14 years
• aqua aerobics for girls and women
• swimming group for women and men
Classes are conducted by qualified instructors with extensive working experience with children from two years to school age. Our trainers have over 10-year extensive working experience with children.
Classes are held in a modern building in Chisinau (Children's Clinic). The Health complex consists of two pools:
• Large pool size: 5m x 12.5m, water temperature 29 º C
• Small pool size: 4.5m x 5m, water temperature 33 º C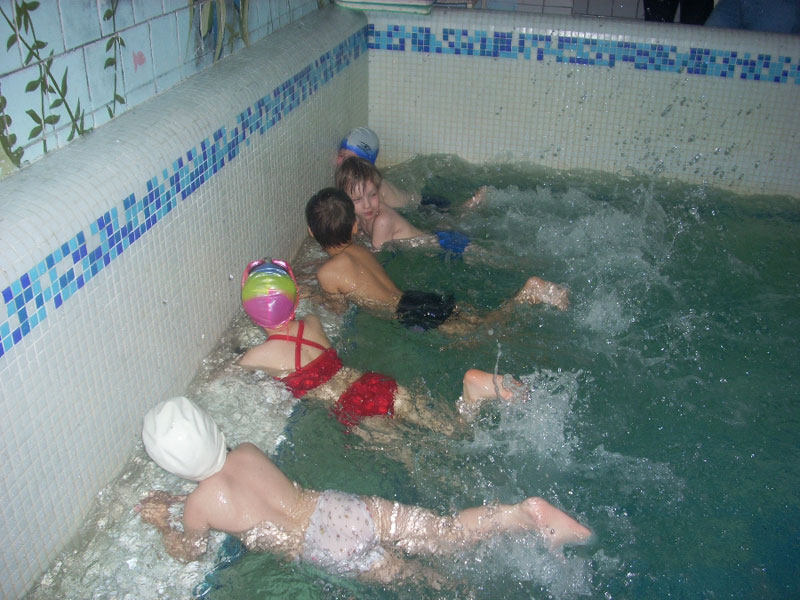 Water aerobics is a special kind of physical activity that makes all muscles work simultaneously. It simply cannot be compared with anything! In water, our limbs perform movements in several planes (horizontal and vertical).

Swimming is a wonderful exercise for joints. Moreover, only in the water, you can develop the most "difficult" joint – hip joint. With the years, this joint, unfortunately, "grows stiff ". Water is a natural massage therapist! It cuts off all excess, saturating the skin with moisture, making the skin firm and elastic. And after such a "massage" we do not experience pain in the muscles, even after intense workouts. In the water we "hover" in space, and that relieves stress from the spine, thus it tends to straighten and stretch.

Crawl, breaststroke, butterfly - these sophisticated styles of swimming can be easily mastered in «Blue Bird» pool!

And of course, the guys get tremendous health benefits. They can strengthen the musculoskeletal and the respiratory systems, fix all "errors" of the posture, get rid of flat feet and harden the body enhancing their immune system.

Children who swim tend to actively gain muscle mass thus becoming healthier, stronger and of great endurance. And what a pleasure to watch these healthy and cheerful athletes!
Contact Details
Address:
Moldova, mun. Chisinau, c. Chişinău
Botanica, St. Independenţei, 28

Phone(s):
(022) 56-55-69

Gsm's:
069-08-57-36
Do you represent the company?