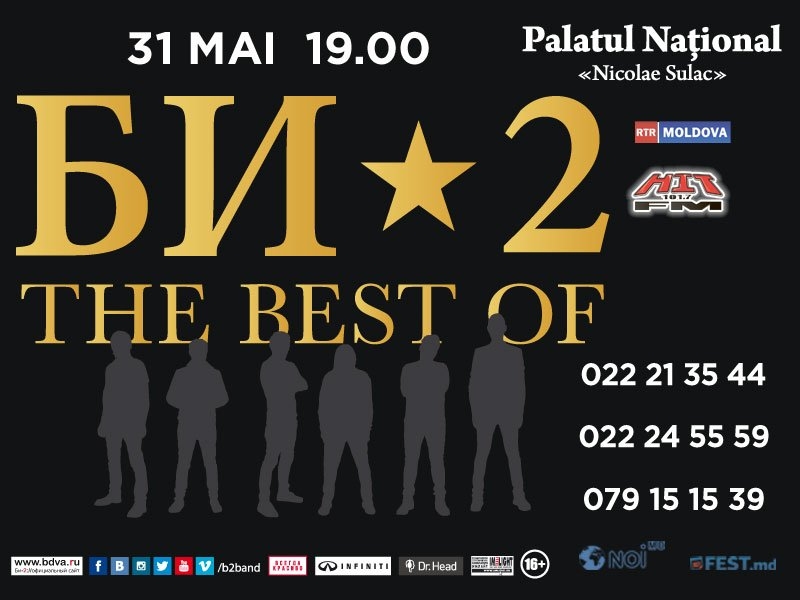 B-2 perform with the program the Best of!
Last fall, a group of B-2 was prepared and presented to the public a new concert program, called Best of.
In the speeches sounded Best of all the main song or greatest hits of all outstanding B-2 album - from the earliest records to the latest at the moment the studio # 16plyus editions and the soundtrack to the film "Clinch". The setlist concerts consists of more than 20 songs - and some of the songs the band has not performed on stage for over 10 years!
In addition to the musical component of concerts Best of spectators waiting and a new set design, and light show prepared by Bi-2 specifically for this program, as well as consistently powerful rock 'n' roll "live" sound, which is famous all performances B-2!
May 31 2016 @ 19:00
Next: May 31 2016
Venue: National Palace "Nicolae Sulak"
Start Date/Time: 19:00

Contact Details
Address:
Moldova, mun. Chisinau, c. Chişinău
Center, St. Aleksandr Pușkin, 21

Phone(s):
(+373 22) 233 194
(+373 22) 213 544
(+373 22) 245 559

Gsm's:
(+373 79) 151 539

E-mail:


Url: