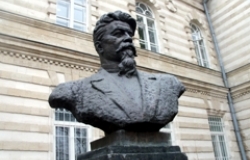 Muzichesku Gabriel (1847 - 1903) – is the founder of a new direction in the church and choral music. He is the author of eleven volumes of church liturgies and hymns, three choral concerts, school choirs and 25 tutorials and a great number of piano transcriptions for folk melodies and choral pieces of Ukrainian, Romanian, Moldovan, Gagauz and Bulgarian songs. Despite the fact of his short life Muzichesku Gabriel managed to demonstrate himself as an outstanding composer and conductor, music theorist and critic, publicist and public politician. He was also a teacher, a brilliant orator, and finally a professional lawyer who did not know defeat in legal proceedings.
In 1959, the State Conservatory was named after his name. That is why the Muzichesku bust decided to install in front of the State Conservatory on the A. Mateevici Street. Unfortunately it is unknown who is the author of a bust of the great musician. According to the hypothesis of the famous architect G. Bosenko, this monument could have been created by Moskow sculptors as brothers Artamonov.
Also in 1959 in his honour has been named one of the streets of our capital – it is in Buiucani district. Streets named after Muzichesku we can also see in the cities such as Balti, Calarasi, Faleshty, Floreshty, Ryshkany, Strasheny and Ismail.
Contact Details
Address:
Moldova, mun. Chisinau, c. Chişinău
Center, St. A. Mateevici, 87