Chisinau is the capital of the Moldova Republic and its economical, political and cultural center. It is situated on the river Bic in the centre of the country. As an administrative division of the capital of Moldova Chisinau holds a special status - it is the municipality of the Republic. Chisinau municipality also includes six cities located neighbourhood – they are Durleshti, Synzhera, Kodru, Vatra, Krikovo, Vadul lui Voda and 25 settlements, which are united into 13 villages or communes.
The first mention of Chisinau refers to the Declaration of 1436 where it is said that it got the status of city through after only a short time, when becoming a part of the Russian Empire and the status of the municipality in 1995. Records show that In 2012 there were 795k people.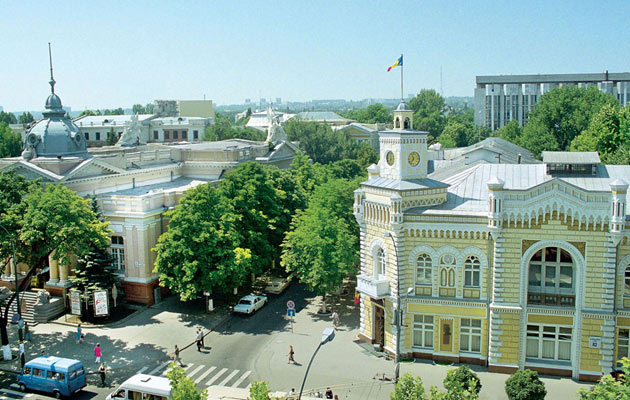 More than 125 years ago appeared one interesting anecdote and it is considered the most common. It is noticed in Novorossiysk calendar, according to that story the name of the city belongs to the old Romanian language - Kishly Noua – that means "new farm". The word «chishla» borrowed from Turkish (kıshla), which means «barracks." This word is normally used in Bessarabia with the meaning of " farm or small village". One part is of Romanian origin, the other – Turkish one, it thus happened due to these two influences. However, contemporary researchers doubt in this interpretation.
Initially this term "Chisinau" we can see in documents of the XVth century, at that time territories belonged to Turks, and even then for several centuries these lands were a place for nomads. Due to this fact some researchers have come to conclusion that Chisinau originates from Turkic and not Romanic language. Some researchers consider that the word derives from the Polovtsian lingo that is pronounced like Keeshan (kesene) and means "mausoleum or burial place." For example, some places in the localised names we can see this very segment Chisinau - Kishenko Orzhitsky region of Poltava area in the Ukraine, primary had the external features of the ancient graves - in the form of monuments, tombstones and mausoleums. Similar burials could belong to Polovetsians and Pechenegs invadors, they lived in the Black Sea region at the beginning of the second millennium AC or the Tatar-Mongol attackers that made a many plundering raids on these territories in the XIII century. Archaeological excavations reveal evidently the existence of Pecheneg burials near modern Chisinau.
According to some other versions the word " Kishinev " is associated with Hungarian Kisjenő – "Jeno small ." Jeno - is the Hungarian tribe in 896, which came to Europe. There is a city Chishineu (Chishineu-Criş) or Kisjenő on the western border of Romania and Hungary but there is no clear confirmation that the name roots of these two cities are connected with each other in any other way.
All names, terms of settlements, towns, cities, villages in Moldova were changed after the Soviet Union disintegration. Certainly Russian language being actively introduced into society, that is why the word "Chisinau" is fast introduced and widen the usage. Nowadays in Moldova this name is used in official as well as informal Russian documents. In Russian Federation and Authorities that regulates Russian language also use the name of Chisinau.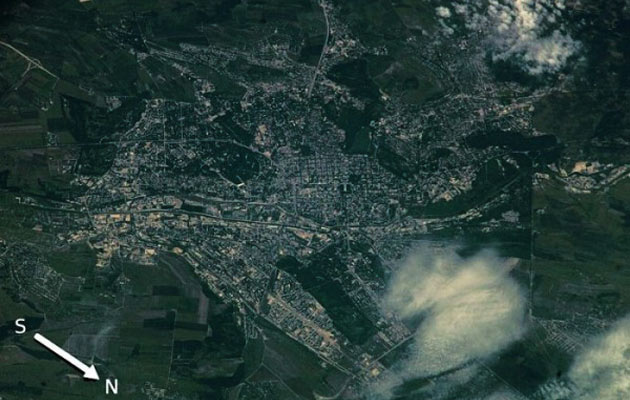 Chisinau is located at a height of 85m above sea level, in the central region of the Republic of Moldova, on the East European Plain - 46 ° 0 northern latitude and 28 ° 75 ' east longitude. The city stretches along the river Bic (the right feeder of the Dniester River) and stands on seven hills. The right - bank part of the city occupies terraces above the flood plain that is separated by Durleshti stream valley and with the following gullies: branched Muncheshtskaya gully, Big and Small Raspberry districts. The left bank of the river valley Bic consists of two terraces - one of which is flat and goes down to the river, and the other one is located at height of 60-90 m.
The total area of the Chisinau municipality is 635 km ², and Chisinau itself – is about 120 km².
The capital is located within Codri (wooded upland area). Soil basically is black earth or chernozem, it is ideally fitted for agriculture development – farming, cultivation etc. The most widespread type of minerals – is limestone, it is even keeps well-preserved fossils in it up to the present day. Deeper into the earth we can find marl and chalky sands.
There are 23 lakes and Ghidigici water reservoir within the boundaries of Chisinau:
• 3 lakes in the park "La Izvor ";
• "Traktarnoe" lake is not far from the park "La Izvor ";
• a lake is on the street Mihai Viteazul and corner Albisoara ;
• a small lake is on the fork of Kalya Eschilor road and Poltava highway;
• at "Old Post " district in Forest Park - two lakes;
• in the park " Ryshkani " and shooting ground "Dinamo" - three so-called "Lakes of the Soldiers";
• lake in the park named after Boris Glavan ;
• in Botanical Garden - two lakes linked to each other;
• Lake "Eight" in Zoological Gardens;
• on Uzinelor street - a small lake;
• on Milesku Spataru street – a lake;
• on Muncheshskoy street is Lake Victoria, on the bank of which is situated house of number 788.a)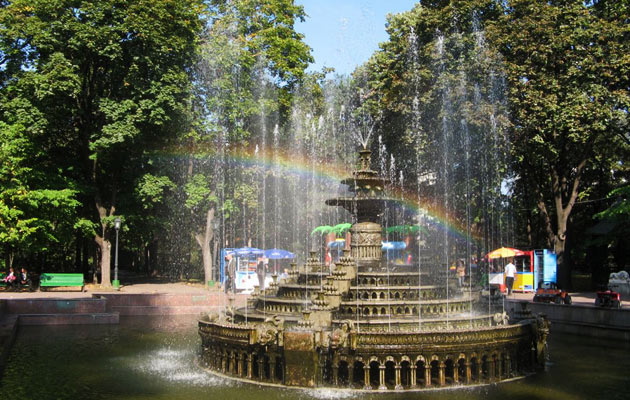 Climate
Chisinau is located in zone of temperate continental climate, soft enough, with a moderately soft windy winters and moderately hot summers.
By 1884 the first meteorological measurements were being performed in the city. This data taken at the beginning of 20th Century comprises lots of information and indicates that the average annual temperature was approximately 10,2 ° C, and an average annual precipitation is 468 mm. Later statistics of 1970s gives us an opportunity to make a examine climate change observing that the average July temperature is + 21,5 ° C, and in January –the temperature was 3,5 ° C.
Presently, there are approximately 2215 hours of sunshine during the whole year time, of which 329 hours falls in July and December gets in total just 54 hours. Average rainfall per year is 547 mm / m ², and average temperature is - 9,6 ° C. In early May the summer sun already starts in Moldova. The average temperature reaches at 20-25 ° C, however, the thermometer could show up to 35 - 40 ° C in the central streets of the city. In January the average temperature is - 3,2 ° C and rarely falls below -10 ° C. In autumn and spring the temperature varies 18-22 ° C, and rainfall are more heavy than in summer.
On 20th of February 1954 there was marked the coldest temperature being that of- 28, 9 ° C, which was below the normal average standard by more than 20 degrees. In 2007, on 19th of July, there was recorded the highest temperature, which reached + 39,4 ° C.
Chisinau is considered one of the greenest cities in Europe. Trees grow almost everywhere - on all the streets and places, there are a lot of parks, gardens, forests and green plantations all around our capital, and in the summer all bathed in nice and fresh greenery. There are more than 50 species of trees, shrubs and lianas in Chisinau parks and gardens. For Moldovan nature are characteristic such trees as buckeye, poplar , maple, acacia, linden, willow, candle tree, rowan, spruce, birch, and also some rare specific plants like the Canadian mahogany tree, cedar, Virginian juniper and wisteria.
Often we can observe plantations with American maple, black locust, elm and fine – leafed linden. Given time these new plantings have replaced some natural vegetation, amongst which we can see sycamore, buckeye, maple, cherry decorative breeds, Sophora or coral bean. Along the streets and around the lakes grow poplars, such as the Canadian, hybrid, pyramidal and grey. Walking along the streets and in the parks we observe a lot of green plants such as staff tree, spirea or meadowsweet tree and boxwood.
Fauna
Moldova is situated in favourable natural circumstances and geographical location. Our fauna is very beautiful and rich. There around 14 species of amphibians and birds in our city parks. Among mammals in Chisinau we can see the European mole, hedgehog, polecat, bat and marten. In addition to all these animals are also found meadow or field mice and squirrels. There are cases when rabbits and foxes enter the urban city area.
Several species of pigeons, starlings, swifts, swallows, sparrows, blue tits and woodpeckers are widely spread in and around our territory. Sometimes peregrines are seen in some areas of the city and it often becomes their permanent home.
Amphibians and reptiles are not so much a characteristic for our region. But still some species we can meet – they are - sand lizard, grass snake, common newt, lake frog or laughing frog, green toad etc.
Among insects are found semirigid -, scale-, two-winged beetles and the like; as a result there is plant pests: bark lice, aphids, silkworm, and spider mite. From time to time massively appearances of fall webworm and ladybirds.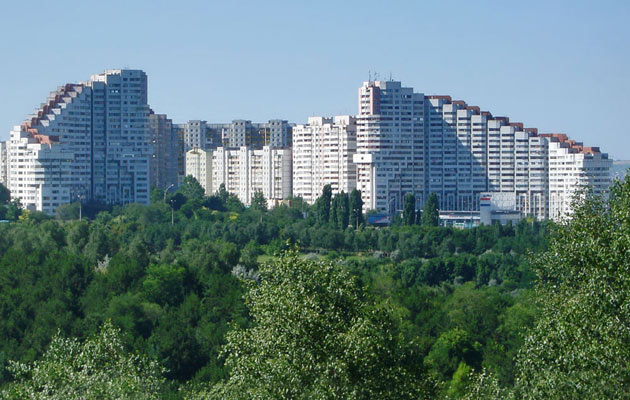 National Emblem
On April 2nd, 1926 Chisinau Authorities adopted Chisinau National Emblem due to the fact that city became regional centre. Initially as the image of this Emblem they took the Bessarabian Emblem. It was in the form of a shield divided into two parts. The upper part consisted of a red field, where there was positioned the two-headed eagle with a golden crown. That was a symbol of joining Bessarabia into the Russian Empire. On the breast of the eagle is placed red shield and St. George the Victorious is sitting on a white horse hitting the serpent. There is a laurel wreath in the left eagles paw, and in the right paw he holds the lightning and the torch. On the bottom part of the Emblem was golden field with the buffalo. Buffalo was even displayed on the old Emblem as the Principality of Moldavia.
The new Chisinau National Emblem adopted in Chisinau in 1878 as a result of Bessarabia formation. On a shield of azure colour was the head of gold buffalo with dark red eyes, and in between horns was a five-pointed gold star with the tongue. On the left of the head is a silver crescent with the horns pointed at the edge of the shield and on the right is silver rose with five petals.
Chisinau National Emblem has been changed due to the joining of Bessarabia to Romania. Azure shield remained but buffalo was changed to a golden eagle with a dark red badge shield, on this dark red shield is Emblem of Moldavian principality, which shows a bull's head, crescent, star and rose. Nowadays this type of Chisinau National Emblem is currently used as Chisinau Emblem since the Soviet Union collapse.
Today the Flag of Chisinau looks like a white cloth with the emblem of the city in the centre. It is overlaid on wicker worked stripe in yellow and brown colours.
Chisinau is the municipality and it means that it has a special status in the administrative division of Moldova. The Chisinau municipality includes: 6 nearby cities (Durleshti, Synzhera, Kodru, Vatra, Krikovo, Vadul lui Voda ) and 25 settlements, which are combined into 13 villages (communes) and the capital itself.
Chisinau city is divided into five districts (sectors): Ryshkanovka (Rishcani in Moldovan language is written as Râşcani); Chekany (Chokan or Ciocana); Center (Center - Centru); Botany (Botany or Botanica) and Buiucani. Sectors are run by Mayor`s Offices (pretura in Moldovan language), and Mayor is the Head of the Mayor`s Offices or City Hall.
Mayors
In 1990 the Institution of Mayor's Office was re – established in Moldova. The very first Mayor of Chisinau was Nicolae Costin. The next Mayor is Urecheanu.
In 2005, due to insufficient voter turnout the mayor has not been elected. Since 2005 to 2007 Vasile Ursu was the acting mayor. And in 2007, on 25 January Vasile Ursu was appointed the Minister of Transportation and Vyacheslav Jordan performed the duties of mayor. In June 2010, after the election Dorin Chirtoaca became Mayor of our capital, and he was re-elected in the 2011 elections.
Mayor of Chisinau has 4 vice- mayors (deputy). In our day vice mayors are Mihai Furtuna, Nistor Grozavu, Igor Lupulchuk and Vlad Cotet.
Budget
In 2006, in January - September consolidated Chisinau budget consisted of 4.3 billion lei, it is 33.9% more than in 2005. Local budget got 892 million lei, the state budget received - 1.8 billion lei, the social insurance - 1.4 billion lei, the obligatory medical insurance took 217.6 million lei.
Chisinau Budget in 2007 amounted to 1 billion 311 million lei, the city budget was 1 billion 266 million lei from the above mentioned sum of money, the remaining 45 million lei represent the budget of other localities (communities) that are part of Chisinau municipality .
In 2007, expenditures exceeded incomes by as much as 19 million lei. They amounted to 1 billion 330 million. Vasile Ursu, the acting Mayor, offered to perform an auction for the sale of enterprises shares because the City Council has the controlling interest in Moldovan lots. Also they wanted to get money by increasing the prices in urban advertising – as it is in high demand and popular thus a lucrative taxable facet. Expense items on education increased in comparison to 2006 and amounted to 568 million lei, cultural sector amounted to 43 million (+27%) , the cost of public order support consisted 70.5 million ( 58 % ), public health care is 27 million ( 80 %), transportation sector, roads and vehicles are 20 million lei ( 11 %), housing and community facilities - 291 million (+7.4 %).
Population
In 1774, the Census revealed that in Chisinau there lived around about 600 families. Of which: 162 people were taxpayers; 110 Russian, Ukrainian and Moldovan families; 52 families of Jews, Armenians, Gypsies, Serbs, and Greeks. From 1812 to 1818 the population of Chisinau had increased from 7k (600 families) up to 18k people and by the end of the century it achieved about 110k people. At all times, the city population was multi-ethnic, the number of population grew not only due to natural increase but thanks to migration processes.
In 1894, according to the Encyclopaedia Britannica and Ephron the population of Chisinau and of its suburbs was 128,218 people and only 20% of them lived in the suburbs. About half of the population were Moldovans - 54 890 people, the second place position was occupied by the Jewish community at around 26,120 people and after them followed the Greeks, Russians, Romanians, Bulgarians, Poles , Armenians, Gypsies and other nationalities. In 1788, the number of houses in Chisinau was approximately 300 units and by the end of the XIX century this had risen to 10,000.
According to the first general census of population performed by the Russian Empire in 189, the city residents were 108,483 people, including those of Jews - 49,829 people (45.9 %), Russian (Great Russians) – 29,299, Moldovans – 19,081, the Ukrainians (Little Russians) - 3393 people etc.
In 1910 the population in Chisinau was 127k , about 10 thousand houses (four of them are three- storyed), 142 streets and alleys, 5 parks and gardens and 12 squares. Between 1897 and 1912 the numbers of Chisinau population show less than in 1894, due to the fact that the Russian authorities did not take into account the suburbs of the capital at this time.
After the occupation of this territory by the Romanian- German invaders in 1944, there lived in Chisinau only around 25 thousand people, but by 1950 there were already 134 thousand of people. By 1959, in Chisinau 42,900 Jewish community, which by 1970 – had increased to 49,900. By the 1960's the population of Chisinau consisted of 215 thousand inhabitants. Social and economical development of the city provoked the fast growth of the population. In addition, the population increased due to the incoming specialists from other regions of the Soviet Union, and thanks to the rural sector, which was 60 % of migrants. In 1980, the flow of migrants has doubled in comparison with 1950. In 1979, the city was inhabited by 500 thousands of people.
After the collapse of the USSR the number of Chisinau inhabitants began to rapidly decrease. In 1991, the city had 676,700 inhabitants and by 2005 its population touched only 592,600 residents.
However, according to the data at the beginning of 2012, within the municipality of Chisinau lived 795 thousand people.
Honourable Citizens
• A.I.Belsky - Hero of the Soviet Union
• D.S. Zherebin - Hero of the USSR
• Composer E.D. Doga
• Former Mayor of Moscow city Yuri Luzhkov
Famous people - their lives are related to Chisinau
• Alla Boyanova (Levitskaya Alla 1914-2011) - Romanian and Russian singer, performer of pop songs and romances. She was born in Chisinau.
• Maria Lukyanovna Bieshu - Soviet chamber and opera singer, professor of the Institute of Arts of Chisinau , the People's Artist of the USSR (1935 - 2012), the title of People's Artist of Moldova.
• Leonid Brezhnev (1906 - 1982) – the General Secretary of Central Committee of the CPSU and Chairman of the Supreme Soviet Presidium of the USSR in 1950 - 1952 he was the first secretary of Moldova Communist Party.
• Konstantin Chernenko (1911 - 1985) - in 1948 - 1956 he was in charge of the Propaganda Department of the Communist Party in Moldova, General Secretary of the CPSU Central Committee (1948 - 1985), Chairman of the Supreme Soviet Presidium in the USSR .
• Alexander Goldenweiser (1875 - 1961) - People's Artist of the USSR (1946), pianist and composer.
• Semyon Zlatov - (1893 - 1969) - Moldovan and Romanian teacher, conductor and composer.
• Nicholas F. Kostenko (1913 - 1993) - Moldovan writer.
• Sergey Lunchevici (1934 - 1995) - Moldovan violinist, People's Artist of the USSR (1976 ), conductor and composer .
• Peter K. Leshenko - Romanian and Russian singer. He spent his childhood in Chisinau.
• Artist Zvi Milstein.
• Alexander Olezhka (1976) - Russian movie and theatre actor.
• Purishkevich Vladimir M. (1870 - 1920) – monarchist, Russian politician extreme right party.
• Alexander Pushkin (1799 - 1837) - Russian playwright, poet and novelist, reformist of the Russian literary language. In 1820 it was sent to Kishinev, where he spent three years of his life.
• Andrei Petrovich Tutyshkin - Russian director ("Free Wind ", "Marriage in Malinovka") and actor ("Carnival Night" was in the role of accountant, " Volga-Volga" in the role of the accountant Trubyshkin Alyosha, "Four Hearts" as Professor Yershov and etc.).
• Alexander N. Szymanowski (1850 - 1917) - the teacher, researcher of Pushkin biography and art; Belarusian ethnographer.
• Alexey Shchusev (1873 - 1949) – the Soviet and Russian architect. On the basis of his project the Chisinau city was rebuilt after the almost complete destruction during the second World War.
• Ilya L. Olejnikov (stage name Klyaver Ilya - 1947 Kishinev MSSR) - Russian TV and pop actor.
• Yuri A. Nikolaev (December 16, 1948, Chisinau MSSR) - the title of People's Artist of Russia, radio and television personality.
• Avigdor Lieberman (June 5, 1958, Chisinau MSSR) - Minister of Foreign Affairs in Israel.
• Igor Dobrovolsky (1967) - Honoured Master of Sports of the Soviet Union, the Russian and Soviet football player, in 1988 became the football champion in Olympic Games.
The oldest and most prominent buildings in Chisinau: Harlambievskaya Church (1812), Constantine and Helen Church (1777), Church of the Annunciation (1807-1810), Mazarakievsky church (1752 ).
Interesting facts about Chisinau
• In 1812 Bessarabia became a member of Russian Empire and in 1817 authorities determined the city centre, also that times appeared first wide and straight streets. General Layout was approved in Chisinau in 1834. Southern cities of the Russian empire were built up on the principle of a rectangular grid of wide streets. Bell Tower and Cathedral raised here in 1831-1836. Next to the Cathedral was built the Arch of Triumph.
• In the XIX century, and namely in the second half of it were built administrative and educational buildings and institutions, here was applied the elements of Romanesque, Gothic and Byzantine architecture and epochs, alongside with the style of the Moldavian architecture. There was still a large number of single-storey houses. Streets paving started in 1862. A.O. Bernardazzi make a great contribution to the improvement of Chisinau and its general beautiful image. Chisinau occupied a space of over 660 acres and by the late part of the XIX century, had an irregular shape of 4 miles wide and 5 ½ miles in length.
• Between 1919 and 1940, mansions built of limestone and brick were erected in Chisinau. During the Second World War 70 % of housing in the city was destroyed and lost.
• In the years after the war under the leadership of Schusev and namely in 1947 the Geberal Layout was drawn up, according to which boulevard Negruzzi and Youth Avenue were laid, Lenin`s boulevard and Station Plaza area were reconstructed, Administration Institutions were built, including Government Building of MSSR. New industrial areas of the city like Sculeni, Old Ciocana were developed. From 1955 to 1970 evolved the residential areas such as: Buiucani, Botany, Ryshkanovka, New Ciocana etc. A lot of nice and historical monuments were established during this time. Chisinau got about one billion roubles from Soviet Union funds for the development. About Chisinau growth and development we can get information from the Decree decided by Sovmin – the USSR Council of Ministers 1971: "About ways and methods for the further Chisinau development". It played one of the key roles. In the mid- 80s there was announced a competition among the best detailed planning projects of Chisinau centres. However, the collapse of the USSR prevented to implement of all plans for the mass re-construction.
• Almost all construction works in Chisinau after Moldova gained its independence. However, over time, we can observe the tendency that people began to build fashionable mansions and luxury homes with expensive apartments along with the restoration of the churches. The "North " bus station was built, Ismail street was expanded and now it is more wide, Railway Station renovated, numerous office buildings and shops were built. In October 2006 it was decided to increase the area of the capital and construction of new sectors such as New Stăuceni and Budeshti -2 with a lot of street junctions, business centres and modern infrastructure. New sectors will help to solve Chisinau's housing and transportation issues. For seven years, a plan to reconstruct the Cantemir Streethas been proposed, there is to be provided a three-lane traffic flow in both directions, 70 meters width of the road and sidewalk are planned to build. Bucuresti street will be completely reconstructed.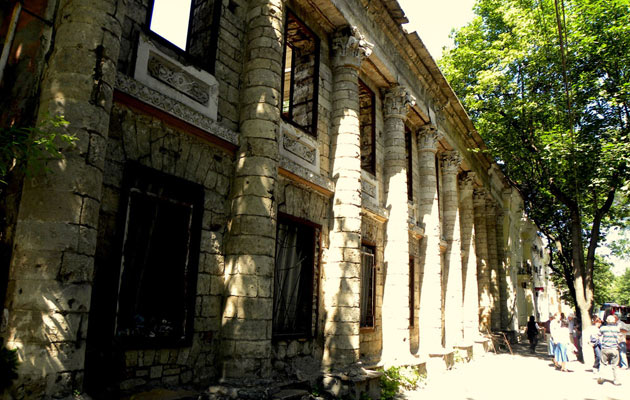 Transportation
Chisinau transportation includes buses, trolleybuses, shuttle buses and taxi cabs. These kinds of transportation help people to get from one place to another one. Our capital is related with other localities and communities by rail, bus and air communications. In the late of XIX century Chisinau was proud by using tram. It was transferred to electric traction in 1913. At the end of the 50'sthe tram lines stretched more than 17 miles , and the number of passengers carried per year exceeded 9 million people. At the beginning of the 60s trolleybus as transportation vehicle completely replaced the tram.
In 1949, the first trolley bus ran along the Lenin Avenue that times (Stefan cel Mare Street - nowadays), it jogged from the railway station to Medical University. Today there are city has three trolley parks. About 318 trolleybuses are working in the lanes. In March 1946 the bus service was introduced.
Initially the city used only buses of brand name - ZIS- 154. Bus routes from Chisinau to the almost all cities and many villages of the country existed all the time, also in some cities in Romania and the Ukraine also people road on the buses. In 1968 the first intercity taxi line was introduced. Today the capital taxi is the most common and affordable type of transportation, because it covers the entire city area as well as it run more frequently and faster than buses and trolleybuses. As a solution for the city transportation issues, from September 1st 2006 shuttle buses that were running on the busiest streets of Centru district, moved to the neighboring streets as well.
In 1949 the first passenger taxi cab came into use. Today in our Chisinau about 40 private taxi companies work. In February 2012 taxi phone numbers became the five-digit ones beginning with 14. In the long – term, there is a plan is supposed to create off-street rapid transit, such as metro or high speed tram.
Education
By the end of 2005 in Chisinau we can count more than 25 thousand children attending 146 functioning pre - schools.
Totally, in the municipality - there are 158 to pre- university institutions, which include 40 secondary schools, 60 lyceums, 15 children pre - schools, 19 gymnasiums, 3 evening and 7 special schools. Like that of 27 extracurricular institutions such as children's creative centers, sports schools where there are about 96 thousand students. According to 2005 - the annual budget per pupil was 1256 lei (and in 2006 this number should have risen up to 300 lei).
Theatres in Chisinau
National State Opera and Ballet Theatre, State Russian Theatre of Drama named after "Anton Chekhov", Theatre "A. Mateevici", Republican Puppet Theatre «Licurici», Theatre «Eugene Ionesco», Municipal Theatre "Satiricus I.L. Karadzhiale", Theatre «Ginta Latină», National Theatre «Luceafarul», National Theatre named after "M. Eminescu" (up to 1988 it was "Moldovan State Theatre of Music and Drama named after Pushkin"- Honourable Owner of the Labour Red Flag Award during the Soviet Period).
Festivals
"Martisor" is an annual International Music Festival held in Moldova. The concerts during this festival are held in the Organ Hall. The first festival was organised in 1966 in the building of the City Bank, which later on became the Organ Hall – it happened in 1978.
«Vă invită Maria Bieşu» or « Maria Biesu " – it is another International Festival in the field of Opera and Ballet Theatre Art, which also is held in Chisinau every year at the beginning of autumn. Firstly the festival was held in 1990, under the organisation and careful guidance of Maria Bieshu (Biesu) – our famous opera singer, she was born in Moldova and got to be world famous. Every year the best conductors, opera and ballet soloists come to Chisinau from the Ukraine, Russian Federation, Italy, Bulgaria , Austria, the USA, Germany, France and the like to participate in this festival.
Festival "Chronograph" is held in Chisinau since 2001. This festival gives a great opportunity and chance to show documentaries filmed by moviemakers from around the world, with the best of them getting awards. The organisers of the festival are: OWH TV Studio, the Union of Cinematographers, UNDP Moldova and TV channel «TV 5 Monde».
Annually in Moldova cinemas hold the French Film Festival dedicated to the Days of French Culture. It organized by the TV channel «TV 5 Monde» and the Canadian Embassy, since 2000.
Every September since 2001 in the capital held festival called «Ethno-Jazz», where a lot of jazz bands from Moldova, Israel, India, Russia, Germany, Poland and other countries play their jazz and show the best achievements in this sphere.
In 2004 for the first time in Chisinau was held the rock festival called "Old Miller", which has now turned into an annual event. The festival was organised by beer companies from Russia and Moldova. Among those invited to perform at the festival the famous rock bands from Moldova and Russia we can name: "The End of Movie", "Night Snipers" , "Pilot", "Numb Leg", " Bravo", "Spleen", " Va-Bank " and others. According to the 2006 data this festival achieved and audience of about 40 thousand people, which is two times higher in comparison with that of 2005.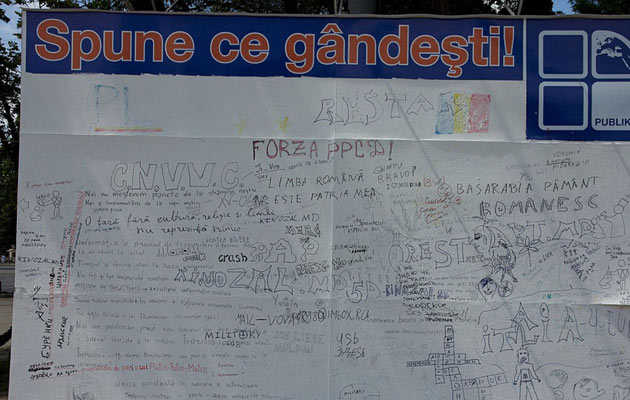 Moldovan television

For the first time Moldovan television appeared on-the-air on April 30th, in1958 (present «TVM» channel). Radio and Television Receiving and Transmitting Centre from Straseni started working in March 1988. Until now they broadcast transmission of channels for Kishinev city and its surroundings area. Today, within 100-120 km from the district of Straseni it is possible to get TV reception.

Relay of "TVR- 1" (the first Romanian TV channel) was launched in October 1990. In 1992, on the 1st of January the transmission of the Russian Television (former USSR TV - Second All-union channel) was stopped. In February 1992, Romanian TV channel «TVR- 1" moved to the place of the channel "Ostankino - 1" and "Ostankino - 1" placed on the former second channel. In March 1993, relaying «TV5-Europe» (French TV channel) was launched in Chisinau.

A Moldovan - Romanian joint venture, the owner of the cable network "Eurocabel" starts its work in 1994. At the very beginning there were only 8 available channels, and later on this number had increased up to more than 20. Almost by 2000 the whole city cable networking was covered by this company.

"SunTV" – the Moldovan - American company set up in 1995, provides for the broadcasting their innovative system MMDS. In December 1996 «SunTV» and its main competitor "Eurocabel" merge with each other. Today this company is glad to offer over- the - air and line packages with 21, 24, 42, 63 and 68 TV channels.
Technical broadcasting of "VTV" channel began in May 1995 and in September of the same year the channel started relaying channel "TV6 - Moscow". On October 14, in 1997 television under the name «NIT» begins broadcasting "TV6 Moscow" as well as produce their own local programs.
"Catalan TV" began its working in August 1995.

«PRO TV» - Romanian TV channel started broadcasting its programs in Chisinau in July 1995. Their antenna that transmits the signal into their studio was established on the tower of Chisinau Television Centre. «MEDIAPRO» the Moldovan - Romanian company is the owner of the studio.

"Channel 26" began its broadcasting in August 1999 with the help of implemented transmitter at the one of the high - rise building in Botanica district. Russian music channel "Muz -TV" started broadcasting at the end of December 2000, which was distributed in Chisinau area and three other cities of Moldova. «Catalan TV» ceases broadcasting on 21st of February in 2001.

Today in Chisinau in the metric wave range the following channels as "2 Plus" (11 TVK), "Moldova - 1" (3 TVK), "Europe" (8 TVK) broadcast their programs and in the decimeter range are broadcasting "TV5 –Europe" (8 TVK), "Muz -TV" (53 TVK), «N4» ( 51 TVK), «NIT» ( 49 TVK), "TV7" (43 TVK), «PRO TV Chisinau» ( 37 TVK), «Prime» ( 30 TVK), «MegaTV (MTV)» (26 TVK), «Euro-TV Chisinau» ( 23 TVK). Test broadcasting of digital package DVB-T runs on 58 and 61 frequency channels. This package includes the main capital TV and radio channels such as: "TVC- 21", "TV7", "Muz-TV", «PRO TV Chisinau», «Prime» etc.
There are also other cable network operators servicing the community such as: «Sun TV», «Alternative TV », "Satelit TV", «Alfa TV» etc in Chisinau.

Digital TV

The first digital cable television network called «ZEBRA» was launched in Chisinau by the telecom operator «Arax» at the beginning of December in 2007. This date marked the beginning of the transition of other cable operators to digital broadcasting. «SUN TV» - the largest cable television operator, almost simultaneously with the «Arax» company starts broadcasting channels in digital format.

Press and MASS MEDIA

Printed matters and publications are available today in Chisinau: " Flux", "Timpul" ("Time"), "Komsomolskaya Pravda in Moldova" ("Communist Truth in Moldova"), "Saptamina" (Week"), "Moldovan gazette", "Chisinau periodical", "Independent Moldova", "Makler", "Chisinau news", "Business man PLUS", "Chisinau Commentator" and much more.
Independent Centre of Journalism is glad to support and guide the list of Internet Mass Media representatives in Moldova.

History of cinema:

In 1897, in Chisinau were held the first screenings at that Noble Club, which was situated on the place where today's cinema "Patria Centre" is located. Felix Masgish, an official representative of Lumière company and their film productions, describes this in his memoirs as follows:

"Once, in Chisinau I took on camera several teachings of squadrons, which were under the command of the General of French origin – that was Prince Louis Napoleon. The last attack: riders gallop with their lances in a horizontal position pass bravely by the operator. Prince raises his sword high above and shows a sign that meant that after a few steps riders should rapidly stop. The great gala performance that evening is in Noble Club. I demonstrate this spectacular scene and Prince Louis Napoleon congratulates me. He said: "Reproducing our morning activities and exercises on the same day – with the help of this funny case, you do a miracle".

Regular screenings and movies in Chisinau have begun in November 1906, in the standard, typical and ordinary places. "Orpheum" is the first movie theatre with special equipment, it was opened in 1912. After the foundation of the MSSR was greatly expanded networking of cinemas.

By the 80's in Chisinau operated the following cinemas: "Moskov", "Shipka", "Flakera", "Biruintsa" ("Victory"), "Forty years of Komsomol", "Andries", cinema named after Tkachenko, «Sparkle", "Patria" ("Homeland"), and «Daily." In 2002 cinema "Moskov" was reconstructed into a concert and entertainment complex hall.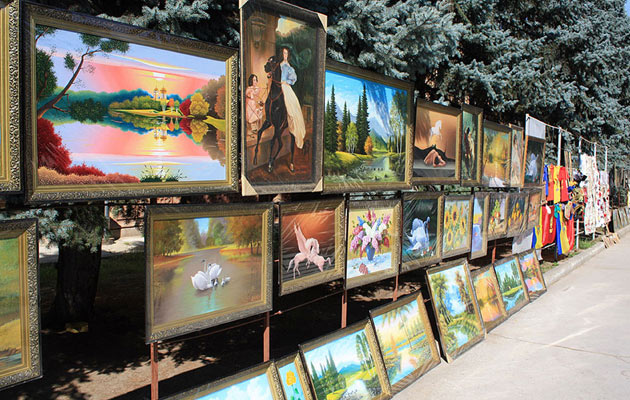 Literature

The first mentions of Chisinau as city appear on 17th July in 1436 in historical sources - documents launched by the Moldovan Governors of Ilya and Stephen Oancha. Later on some references on Chisinau come into view in travelling notes made by Marco Bandini and P. Aleppo in XVII century, in works of Miron Costin, in "Description of Moldova" by Dm.Kantemir (beginning of XVIII c.) and several participants of the Russian -Turkish wars made some notes of Chisinau in their memoirs in XVIII century.

In 1812, after Bessarabia became the part of Russian Empire, the history of our region and ordinary life of our people became of great interest, especially Chisinau – becoming attractive because it became the capital of our country. There are countless descriptions of Chisinau, among which we should mark the works of P. Svinyan, A. Zashchuk, P. Kunitsky, M. Dragan. Valuable and very useful reviews and commentaries about the city at the beginning of 1820, about its customs and traditions, way of life of its residents is reflected in his works F.F Weigel – vice - governor of Bessarabia at that times: "Memories", "Observations on the present state of affairs in Bessarabia" and "The current state of the Bessarabia region."

Decembrists as Raevsky, Orlov, Pujin and others lived in Chisinau in 1820. Raevskii was interested very much with the history of the capital, this curiously was reflected in his works (article "Evening in Chisinau," etc.). Pushkin – the Great Russian poet and politician figure lived here for three years in exile from 1820 to 1823. Life and manners of Chisinau noble society he colourfully describes in his poems and letters ("To General Pujin", "Yawning after lunch ...", My friend, already for three days ...» and the like"). Pushkin, even after his departure from Chisinau, more than once and quite warmly wrote about this city in his letters to Vyazemsky, Zhukovsky etc. During his stay in Chisinau, the poet started writing his novel "Eugene Onegin" and composed about another hundred nice poems.

Chisinau during 1830- 50 is described in the following publications: N.L Nadezhdin -"Walk about Bessarabia", which published an article on the "Anthology of Odessa from 1840," A. Golumbievsky "Diary of a traveller through South Russia in 1841," the letter of I.S. Aksakov, who visited Kishinev in 1848 and 1855-56, as well as letters of Leo Tolstoy, who visited the city on the way to the Crimea in September 1854 and lived here after the Crimean campaign for about two months.

Music

Composer A. Hlebovsky in the middle of the XIX century composed a piece of music, which he dedicated to Chisinau - Concerto for Piano and Orchestra "Chisinau Carnival". It is considered one of the oldest compositions about our city.

The most famous song about Chisinau is the song from the movie "Melodies of the river Dniester" – "My white city" (this melody is played by the chiming clock on the building of the Chisinau Mayor`s Office) – the music composer is Eugene Doga on the lyrics of G. Voda. In addition, the composer wrote in 1967 a collection of songs about Chisinau called "City sings" as well as a piece of music dedicated to the capital and called "Rhythms of the City" (1970) for Pop Orchestras.

Igor Dinga, the present producer of "Zdob si Zdub" and the leader of the famous musical group «Cuibul», devoted to the capital a song called "Hello, my city " from the album "Tomato" in 1998.

Cinema

In 1897 Felix Masgish - the representative of the Lumière Company in Chisinau made the first movie video. Unfortunately, this film does not exist anymore; Newsreel "Chisinau celebrations in the honour of the centennial union of Bessarabia with Russia» is dated to 1912.

During the period of the Soviet Union there a huge number of film documentaries and feature films about Chisinau were made.

Here are some of them:

1961 - Man goes for the sun
1960 - In the city suburbs
2010 - Wedding in Bessarabia
1963 - Street listens
1981 - June border line
1975 - Between Heaven and Earth
1970 - Explosion of delayed - action
1980 - Big - small war
2006 - Hare over abyss
1993 - Palms
1980 - Bread, gold, revolver
Contact Details
Address:
Moldova, mun. Chisinau, c. Chişinău