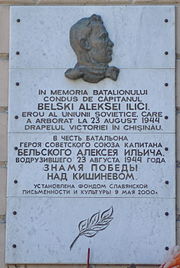 During the Great Patriotic War, Alexey Iliych Belsky Belsky participated for the liberation of the Ukraine and Belarus, in Iasi- Kishinev operation and for the capture of Berlin. He was commander of the 1st Assault Rifle Battalion in the 273rd Guards Infantry Regiment. In January 1945, on the territory of Poland A.I Belsky distinguished himself during the Vislo - Oderskoy operation. During the battles for the Chisinau liberation his battalion was the first that broke through into the centre of our capital and in the evening of August 23rd, 1944 they hoisted the red flag over the ruins of a building at the streets intersection of Lenin (now Stefan cel Mare) and Gogol (now Metropolitan Banulescu Bodoni).

During the fighting in Berlin Belsky also was presented to the second Star of the Hero of the Soviet Union by the General - Colonel N. Berzarin, the commander of the 5th Attack Army. But for the various reasons Alexei Belsky did not get the award of Hero of the Soviet Union. After the war he lived in Chisinau, where he was buried at the central cemetery of the city in 1970, the street in Botanica district was named in his honour, and after the collapse of the USSR this street was renamed into Cuza Voda in honour of the King who united Moldavia Principality with Wallachia.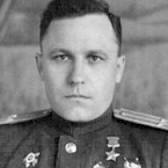 In 2011, on the initiative of the residents living on Belsky street, now Cuza Voda as well as with the idea of "Russian Youth League of the Republic of Moldova" have been collected about 5,000 signatures in order to return the name Belsky to the street and offered this documents to the Mayor of Chisinau. Later on, this idea was supported by more than 20 political parties and public organisations, including the Communist Party, the Governor of Gagauzia - Formuzal, SDPM, PatriotIc Party of Moldova, MDBGS, the party – the Third Force, NPKF, the Ukrainian community in Moldova , the Russian community in Moldova and many others. Also, the roundtable participants like "68 Years of Chisinau Liberation" and "Liberation of Moldova from the Nazis" addressed with an appeal to return the previous street names to the City Office. In turn, the Mayor of Chisinau, Dorin Chirtoaca, promised to consider this subject matter.


Contact Details
Address:
Moldova, mun. Chisinau, c. Chişinău
Center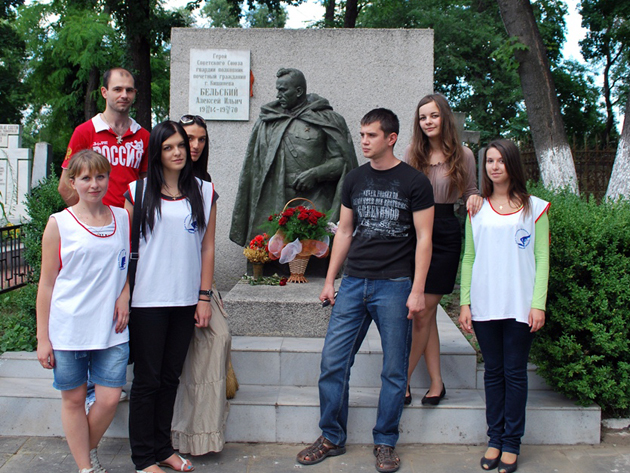 3 photos: 1 from 3