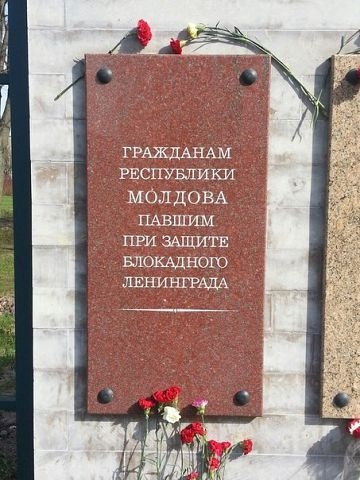 8th September 1941 German, Spanish and Finnish armies imposed a blockade of Leningrad. The siege lasted 871 days - until 27 January 1944. The blockade ring was only broken on the 18th January 1943.
At the beginning of the blockade there had been already lack of food and fuel supplies in the city. Lake Ladoga remained the only way to communicate with the city. Through this transport artery only a small amount of food could pass and that resulted a widespread famine which was aggravated by a severe winter. Thus problems with transport and heating resulted in thousands of deaths.
The siege of the city by the enemy fleet and troops continued even after the blockade was broken up in the September of 1944. In order to compel the enemy to lift the siege during Juneto August of the summer of 1944, the Soviet troops, supported by aircraft and ships of the Baltic Fleet conducted Svirsko-Petrozavodsk and the Vyborg operation. The 8th May 1965 Leningrad was awarded the highest degree of difference - the rank Hero City for heroism and courage in the defense of the motherland.
Day of full reversal of blockade of the city is the Day of Military Glory of Russia and is celebrated on the 27th January.
The Siege of Leningrad is an integral part of the history of Russia as well as many families of this city. It is important to pass on to our descendants the knowledge and pride of our countrymen, who defended and saved the city.
They need to remember and learn about the suffering that had befell Leningrad and the soldiers who fought for the liberation of the city. They made the greatest feat defending Leningrad during the blockade. Thus, in Piskaroyvskiy Memorial Cemetery in St. Petersburg in 2002 was created Alley of Memory. There are memorial plates representing different countries, republics, provinces, territories and cities of Russia and the Soviet Union to honour the memory of fallen countrymen, who defended Leningrad. It is the great contribution of many nations and nationalities in the liberation of the city from the enemy. Walking through the Alley of Memory it becomes clear that Leningrad was saved at the cost of the lives of millions of people of different nationalities, different professions and different ages. Along with the rest of the soldiers Moldovan people fought as well, their contribution is invaluable. The Government of the Republic of Moldova decided to accept the offer of the St. Petersburg Foundation, entitled "Piskarevskiy memorial" and install a commemorative plaque in honour of the citizens of the Republic of Moldova, at the memorial cemetery. Thus they have perpetuated the memory of citizens of Moldova, who gave their lives during World War II to defend the city of Leningrad.
Contact Details
Address:
Russia, c. Saint Petersburg