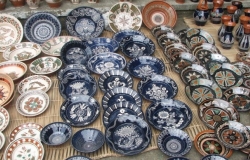 In the village Hodzhinesht of Calarasi district there was held the Fourth International Potters Fair – Exhibition named «La vatra olarului Vasile Gonciari».
The honourable Guest at the event was the Prime Minister of Moldova Iurie Leanca. He visited the local museum of pottery, and then he delivered a speech to the visitors: "I am confident that such a festival, we multiply the spiritual heritage of our state. This event, along with other festivals such as the Festival "Gustar" enable us to being respected and treasured with the with European values. By the fifth festival we must do our best so that to provide roads access to the villages and make them look like the European ones, as villagers of Hodzhinesht wish - to become a European village. "
The event was attended by about 60 folk artists, potters and ceramists.