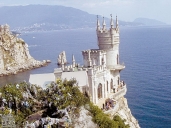 A new law about staying in the Crimea has now come into effect in Ukraine. – The law "The rights and freedoms of citizens in the temporarily occupied territory of Ukraine."
According to the law, entry to the Crimea or exit of foreigners and stateless persons shall be allowed only through the control points of entry and exit by special permission. The procedure for issuing such permits are currently being developed by the Ukrainian side, and immediately after its approval, MAEIE will inform the citizens of Moldova.
In the Ukrainian legislation some amendments which make provision for sanctions for people who violate the administrative border crossing regime have been introduced.