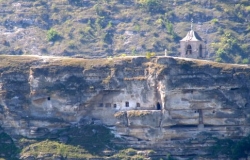 According to the rating of competitiveness of tourism and travel the Republic of Moldova continues to be unattractive country for tourism. Our country is in the last place among the European countries and took 111th place out of 141 countries in the world.
In the report on the competitiveness of tourism in the world is said that the most significant problems of Moldova is the lack of tourism industry support by the state, the poor quality of transport infrastructure and low efficiency of marketing.
However, according to experts, the strong points of tourism of the Republic of Moldova include: health and hygiene indicators, the legislative framework in the field of tourism, the labor market and human resources, telecommunications infrastructure and competitive prices in the field of travel and tourism. Fuel in this country is cheaper than in 73 other countries participating in the ranking. On the other hand, the analysis of experts does not include the price level of the hotel.
In the ranking the Republic of Moldova is located directly after Venezuela and Gambia and before Senegal and Paraguay. The Russian Federation is in the list on 44th position, Bulgaria took 48th place, while Romania is on the 66 position. For obvious reasons, this list does not include Ukraine.
To determine the results for each of the 141 countries that participate in the ranking there were used public data obtained from experts in the field of tourism and a survey conducted by the World Economic Forum.