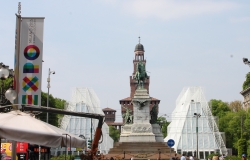 At the world exhibition EXPO 2015 in Milan Moldova will be presented with its first own pavilion. The exhibition will be held from May 1 to November 31, 2015. The theme: "Feeding the planet. Energy for life ".
The exhibition includes thematic programs for the wine industry, textile industry, fruit producers, tourism sector.
EXPO 2015 will be attended by 130 countries and many international organizations. Number of visitors of the exhibition will exceed 20 million people. The exhibition area - 1.7 million sq meters. The organizer of the RM participation in EXPO 2015 is the Organization for Investment and Export Promotion (MIEPO).