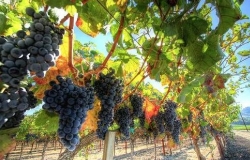 Following the signing of the Memorandum of Understanding between the United States Agency for International Development, the Development Agency of the Czech Republic and the RM Ministry of Agriculture and Food Industry, Moldova will create a register of vineyards and wine.
The register will include details about the vineyards and the wines produced in the Republic of Moldova. Work on the establishment of the register has already begun, and according to preliminary data it will be completed in a year and a half.
Czech allotted Moldova 600,000 dollars, and the U.S. - 500,000 dollars in the frame of the project.