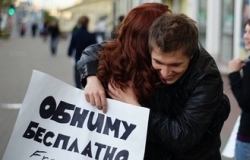 Today, all over the world is celebrated the International Day of Hugs.
Traditionally on this day, you can embrace even strangers.
Celebration IS originated in the US in 1986, which quickly spread throughout the world. Hug Day is celebrated on January 21.
Psychologists say that people seeking to sign you in their arms, want to experience a sense of security, love and comfort.
In addition, studies have shown that the hugs are useful for health. They strengthen the immune system and reduce the risk of cardiovascular disease.