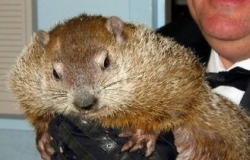 Groundhog named Phil from Punxsutawney, Pennsylvania divined the long winter in the U.S. Associated Press reports about that February 2.
Phil on the traditional annual ceremony, coming out of the hole saw his own shadow and was scared, that means late spring: in other words winter weather will last this year more than 1.5 month.
In the 2013, Phil predicted an early arrival of spring: woken groundhog climbed out of the hole and did not see his own shadow.
In the United States and Canada people traditionally celebrate Groundhog Day on February 2. Groundhog from Punxsutawney named Phil is the most famous weather forecaster in the United States.
Meanwhile other cities have their own marmots-predictors. Phil since 1887, has given his predictions, though only 17 times the groundhog was right predicting early spring.
Аccuracy of Phil's prediction is about 40%.