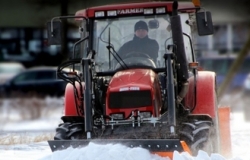 For Moldovan Road Services passed not an easy night. They had to liquidate the consequences of snow almost throughout the country.
Last night the snow in the capital was removed by 16 units of special equipment. On the streets of Chisinau and its suburbs have used 314 tons of reagent.
According to the State Administration of roads, on trail were running 87 units of equipment and 180 workers. By morning, the roads were strewn with 11th hundredweights of salt and sand.
A hot line for those who are in a difficult situation on the road + 373 22 728 961.