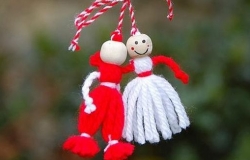 Those who had not previously bought Spring Gifts, flocked to the center of town on Sunday.
«Martisor» Fair is held in the center of Chisinau where this symbol of spring is being sold.
Traditionally martisor is pinned on the chest.
Vendors say that it takes almost half a year to manufacture this symbol of spring.
«Martisor» Fair will last until March 10.