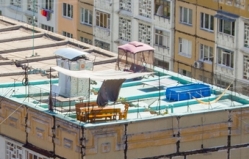 On the finest rooftop of Chisinau the owners are attempting to build a swimming pool, however all is not going to plan.
Residents are complaining that the owners of the "penthouse" on the roof of the panel skyscraper have somehow blocked the ventilation system.
Unfortunately, the owner of the recreation area was unavailable for comment as they have refused to talk to reporters and even their neighbours.
The administrator of the building said that due to wrong reorganisation of the service floor the ventilation system has been damaged, causing suffering to the residents of the apartment building.