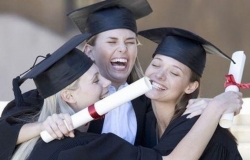 The Best Moldovan students can now take part in the competition for honorary fellowships.
This year, the Ministry of Education has granted 50 scholarships of 12 thousand lei each.
Only citizens and residents of Moldova under the age of 30 years can participate in the competition: the students of the last year of study, as well as students of first year of training in all specialties who are going to get a master degree.
Average score of candidates for the scholarship must not less than "9" - the humanities, "8.5" - exact sciences.
Exceptions are the students:
who are receiving scholarships in other competitions or programs announced in 2014,
of the N. Testemiţanu University of Medicine and Pharmacy continuing training in clinical residency and internship,
who previously received an honorary fellowship of programs which were in 2013 year.