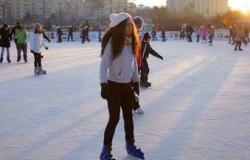 Construction works of the ice rink in the main square of the capital is finally coming to an end. This is the first open-air ice rink. The ice field will welcome its first visitors on December 15th.
Sergei Ciobanu, president of the hockey club "Platinum" notes that the work is already in its final stages; the only things are left to be completed are putting on ice and backlight setting. Simultaneously 100-120 people will be able to skate at the rink. The ice will withstand temperatures up to 15 before suffering.
LEDs are built in under the ice and over the rink there will be street lamp, which are going to illuminate the ice rink at night-time.
Skating session will cost 40 lei for 40 minutes.
Rink schedule: 24 hours.