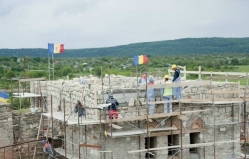 If you decided not to go on tours abroad and prefer to travel throughout Moldova, you should know that
Soroca fortress
reopens for visitors.
The tower at the entrance to the fortress is partially changing its appearance shape. Builders are making efforts to ensure that the fortress has regained value of the main attraction.
Director of the fortress Nicholas Bulat said that the reconstruction is under way. Now the mistakes made during the renovation in 1970 are being corrected. Two towers, according to the project, will have the roof.
For the reconstruction of the fortress there was a contest where the Romanian company that had restored fortress Neamt won.
For the first time in the cross-border project, entitled "Medieval jewels", the value of which is three million euros, the restoration of the monument in Moldova is being carried out. The project is part of the Romania-Ukraine-Moldova program, which is funded by the EU under the European Neighbourhood Policy.